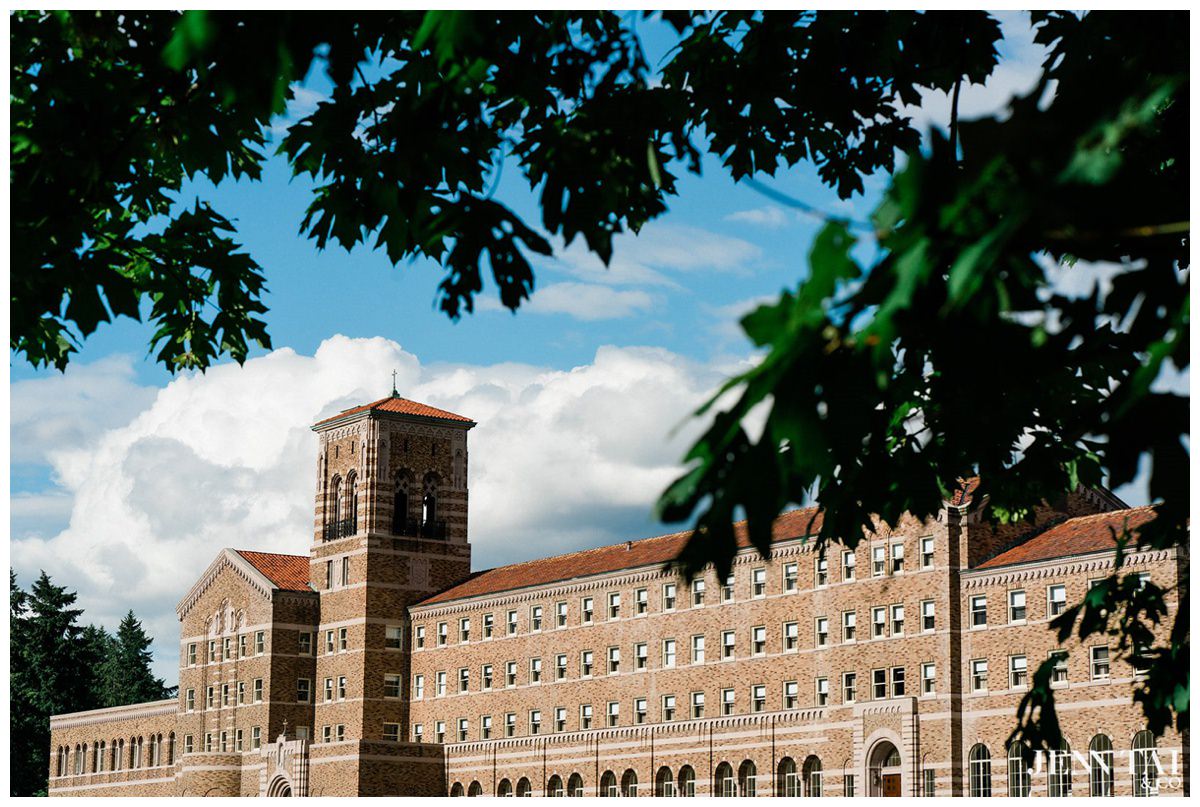 This June we had the opportunity to work with The Lodge at St. Edward Park and a talented team of vendors to showcase this new venue that opened in the heart of St. Edward State Park in May 2021. Pulling in the surrounding grounds and the historic features of The Lodge we chose an elegant PNW inspired theme that included lush greenery, white blooms, and gold accents.
Getting ready in Daniel's Suite, our bride Raven made her way to the first look with her beau Nik inside The Lodge at St. Edward Park. Raven, wearing one incredible black gown paired with a stunning bridal bouquet from Fena Flowers – an art piece in itself – was simply glowing as she joined Nik for photos around The Lodge and down into The Grotto where the ceremony was set. Not to forget a visit with Sam Day to be painted into his canvas that captured the surrounding venue.
Gold geo pendants from LightSmiths hung over the ceremony aisle set inside The Grotto at St. Edward State Park. The garden alcove that was used by priests for prayer and meditation is the perfect place for an intimate wedding ceremony.
Walking through the Great Lawn from the ceremony to the patio outside Remington Ballroom, cocktail hour was highlighted. Signature drinks with a historic name were highlighted along with lounge furniture from Vintage Ambiance. Cheers!
The reception was set in the signature event space, Remington Ballroom, the largest venue at The Lodge at St. Edward Park. Located on the lower level of The Lodge at St. Edward, Remington Ballroom is connected to the outdoor patio and is highlighted with natural light welcomed through original windows stretching across the room as well as the magnificently restored stone hearth.
One of our favorite details of the reception included the dinner menus by Perfect Press that were customized to each person's entrée choice coordinating with the place cards that featured a different leaf based on their entrée choice. The addition of the wedding cake by Blue Box Bakery which featured a gold leaf design inspired by the envelope liner on the invites from Perfect Press Invitations was one simply unforgettable!
No event is complete without custom gifts for those nearest and dearest. Evergreen Custom Gifting designed these custom gifts featuring products from The Lodge and local artisans.
Venue & Catering: The Lodge at St. Edward Park
Wedding Planning & Design: Pink Blossom Events
Photography: Jenn Tai Photo Artistry
Floral: Fena Flowers
Rentals: CORT Party Rental
Stationery: Perfect Press
Lighting: LightSmiths
Wedding Painter: Sam Day
Wedding Cake: Blue Box Bakery
Hair & Makeup: Anne Timss Makeup & Hair
Bridal Gown: French Knot Couture
Jewelry: Sholdt
Grooms Attire: The Black Tux
Custom Gifting: Evergreen Custom Gifting
Models: Raven West & Nik