Seattle Wedding Planners Pink Blossom Events, Clutch Events, and New Creations Wedding Design & Coordination have teamed up to share what you need to know as you finalize wedding planning for the summer ahead. Pandemic or not, your wedding is going to be a celebration of a lifetime and we're here to help!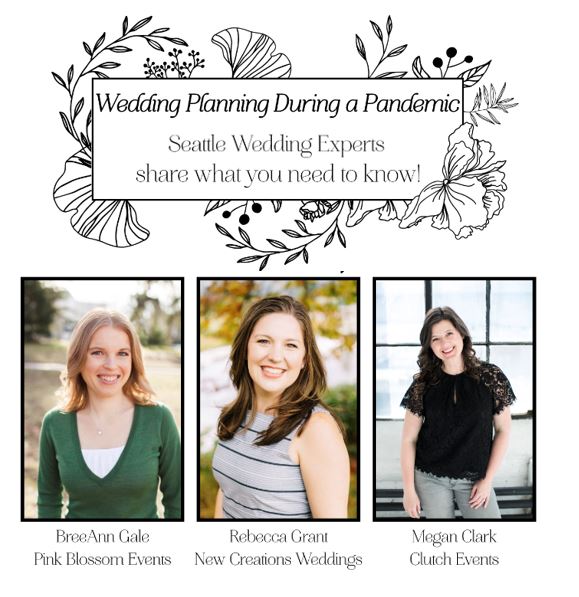 With vaccinations rolling we are feeling cautiously optimistic that the end of the pandemic is near. As much as we'd like to ignore the never-ending restrictions and guidelines from the Centers for Disease Control and Prevention and our Washington State Governor there is a good chance they will play a part of your wedding day. As of today most counties in Washington State are in Phase 3 and can expect the following guidelines:
Masks
Masks (aka face coverings) are required at all times unless when eating or drinking. Make it fun and outfit your wedding party and crowd!
*Mask exceptions are listed below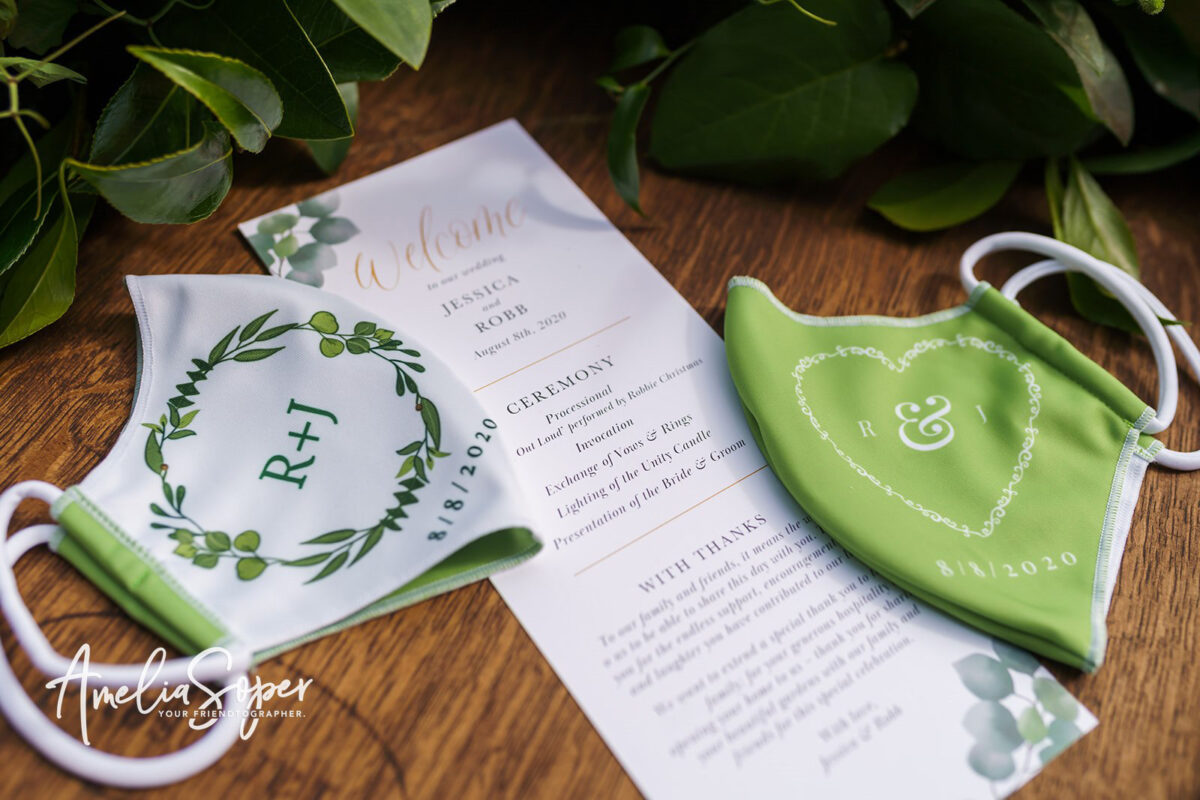 Indoors
Maximum capacity of 400 or 50% capacity (not including vendors), whichever is less, so long as six feet of physical distancing is maintained between groups. Table size maximum of 10. If food or drinks are served, eating and drinking requirements apply.
Outdoors
Maximum capacity of 400 (not including vendors), so long as six feet of physical distancing is maintained between groups (groups of 15 maximum). If food or drinks are served, eating and drinking requirements apply.
Ceremony
We recommend sitting groups of 15 on either side of the aisle. Think a traditional wedding setting (ie. 3 rows of 5 people) with a 6' space between the next grouping of 15 (ie. 3 rows of 5 people).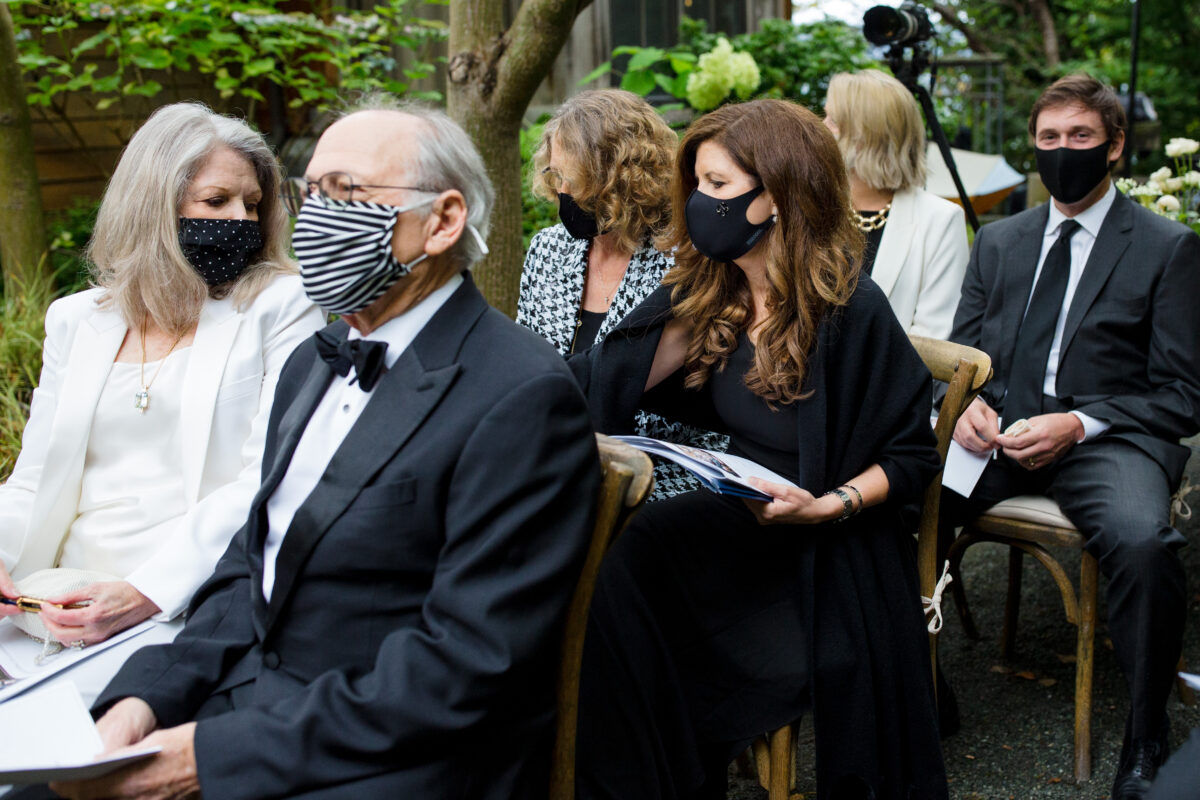 Cocktail Hour
While mingling is not officially allowed just yet cocktail hour can happen, and ideas are everywhere! Assigning guests their groups (up to 10) at the beginning of cocktail hour will allow them to enjoy cocktail hour safely and transition to dinner that same group of people. Think comfy seating and a mix of tables to allow guests to sit for eating and drink and participate in allowable entertainment activities such as lawn games!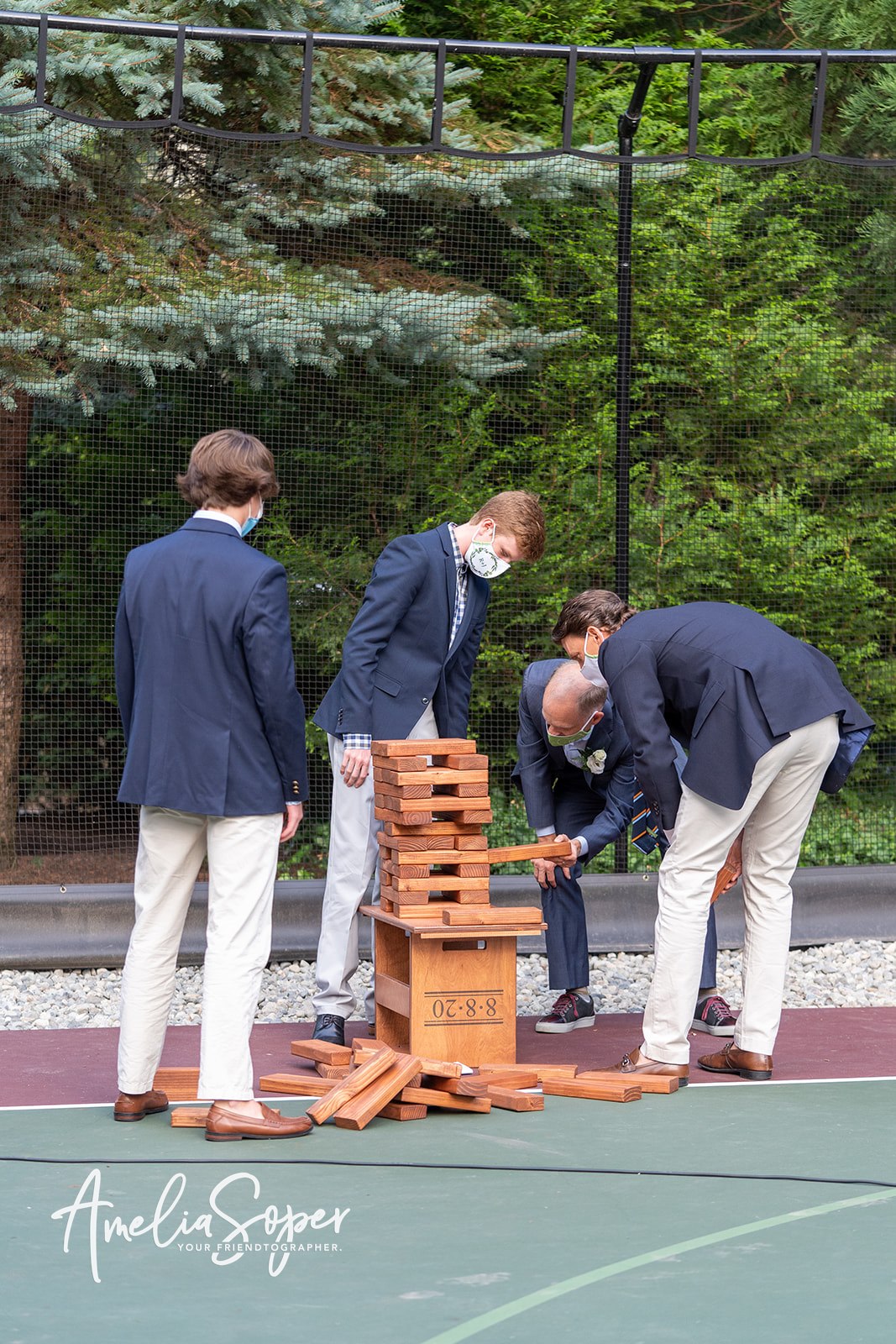 Dancing
Dancing is allowed! A maximum of 10 per person per dance floor and consists of your same table group and all must wear masks. Who says you can't have multiple dance floors?
In addition, the following dances are expressly allowed: the couple's first dance and the parent dances. For these specifically allowed dances, only one pair may dance at a time, both must be wearing masks (unless they are part of the same household).
Exemption on Face Coverings – Yay!
~Wedding couples are exempted from the face covering and six feet physical distancing requirement from each other during the ceremony so long as they maintain six feet of physical distance from all other persons. 
~The officiant is also exempted provided six feet social distance can be maintained. 
~The officiant, family members, and wedding party are also exempted for posed photographs provided that the face covering is removed only briefly at the direction of the photographer to take the photo. 
~Face covering must be reapplied immediately after the photo is taken.
Follow this link for the most up to date guidelines outlining Phases 1-3 published 3.23.21.
Note: We are not certified CDC health experts. Our ideas are suggestions based on current guidelines and our years of experience. We know these may adjust down the road as guidelines change however, we, your wedding planner and vendor team, are here to support you and make it the best day ever!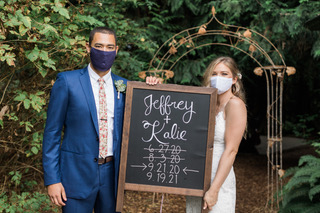 Communicating Regulations with Your Guests!
Between evolving regulations, updated county phases and guests traveling from all over the country with their own local rules, it is important to make sure everyone is on the same page and aware of the safety guidelines at your wedding!
Here are some tips to ensure you properly communicate the safety guidelines and regulations for your county!
~Double check the current regulations so you communicate the most update to date rules. A great reference is the WSWEA regulations page! We also recommend confirming these rules with your venue and vendor team, so everyone working your wedding is on the same page!
~When sending out your wedding invitations, make sure to note on your details card that your wedding website will include up to date COVID-19 restrictions and make sure to list the URL. We suggest having a dedicated tab on your website where you can outline the rules that guests will need to follow.
~Incorporate the major rules into your welcome signage for your wedding so that guests can see them as they enter the venue for the first time. Your vendor team will be happy to remind guests of the rules if they aren't following them correctly, but everyone will be appreciative if you alert them in advance!
~Write a quick addition for your officiant to read during the ceremony! It is the perfect quiet moment to have the rules listed out so that it takes away the pressure from you during the reception.
Here is a quick example:
"On behalf of the couple, their families and the team of vendors here today, I would like to quickly talk through the safety measures to ensure we all have a great time while we celebrate together. Please keep your masks on unless you are eating and drinking. If you get up from your dinner table to use the restroom or go through the chefs' stations, please remember to wear your mask.

Please keep in your group of ten while enjoying cocktail hour, the photobooth and on the dancefloor.

I will be releasing you by rows so that we can avoid a crowd while moving to cocktail hour where there will be tray passed drinks and appetizers brought to your tables. The staff will do their best to refill your drinks, but if you go to the bar and there is someone in front of you, please remember to keep six feet of space between you.
We have hand sanitizer throughout the venue, so please sanitize often.

We realize this may not be the traditional wedding we planned for, but we are so excited that we are able to still celebrate together. We really appreciate you keeping everyone's comfort level and safety in mind!
We hope these communication tips allow you to be more present in the moment of your wedding day to thoroughly enjoy yourselves!!"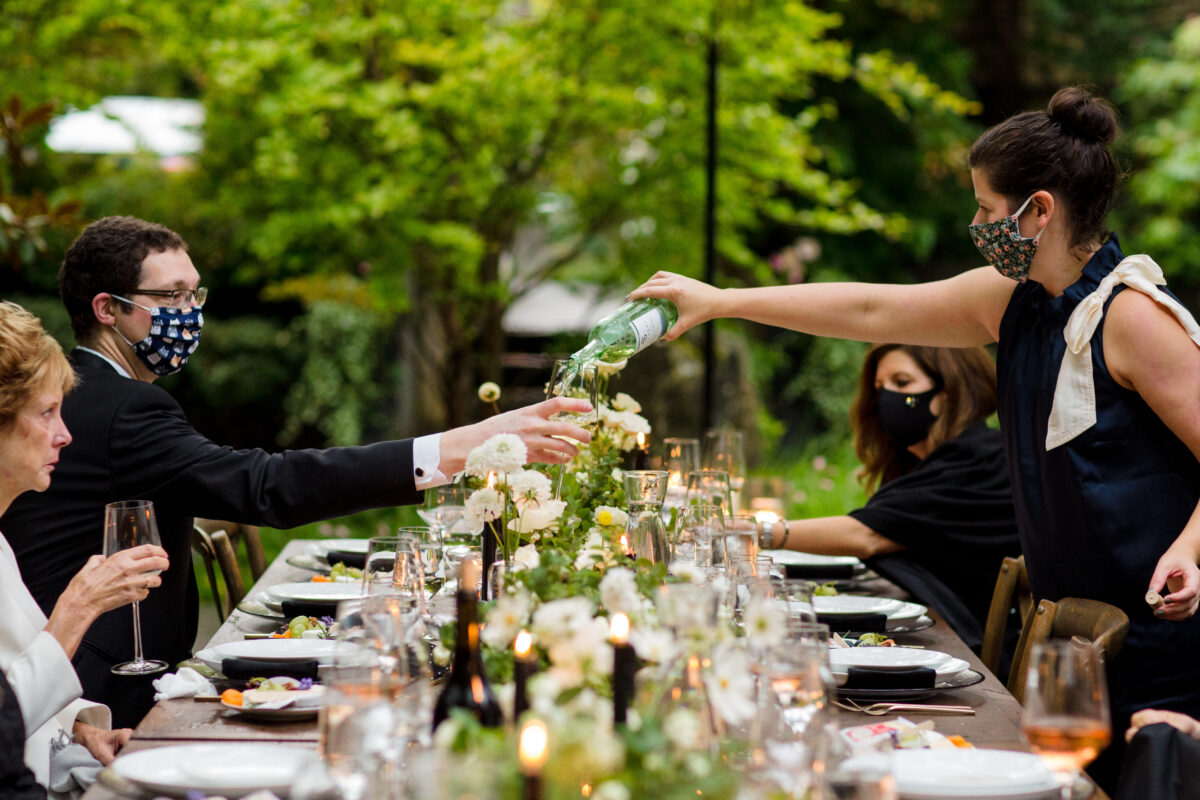 Keeping Your Wedding Vendors!
We as a collective wedding vendor and venue community are forever grateful to our couples for hanging in there as we've rode this pandemic rollercoaster right alongside you. We are excited for the opportunity to safely celebrate with you and your families on your wedding day.
We all had some amazing intimate weddings in 2020 and are thrilled that weddings are extremely close to 'normal' given the current climate. We know what you might be thinking, "After reading these dang rules, should I just cancel my plans and host the wedding in my back yard so I don't have to follow the rules?
We get it. It's a lot to navigate. However, this is what wedding vendors do best- we "pivot" and navigate on a daily basis. If any group of people were built to handle the ever-changing regulations, it's us.
Having your wedding at home might sound easier, but not only will it be a huge logistical undertaking turning a home into a wedding venue. It will also have huge financial repercussions for you, and it does not get you off the hook for following regulations. As the host of the wedding, you are the responsible party to keep your guests safe as it states in the Wedding & Event regulations linked above. Regardless of where your wedding is being held, the same rules are to be followed.
If they are not followed at a private home/property,
1. This puts your vendors in an incredibly tough position from needing to keep their income and truly wanting to do your wedding day however knowing regulations will not be followed, to
2. The possibility of having your vendors tell you no and remove themselves from their contracts as you are putting them in a potentially dangerous/hazardous environment. Most contracts have a portion of them that state that a vendor can and will leave an unsafe environment with no money due back to the client.
After a year of risks with the virus, don't risk the health of your guests and the livelihood of your vendor team by having an unsafe wedding.
Venues and vendors truly have your best interest at heart through this. We WANT a successful wedding day for you and your guests to celebrate and enjoy. We know these current rules feel tiresome, believe me, we get it; but we are here to help you through them and find ways to creatively still have a fabulous wedding day.
We've come this far together, and we've been a part of some amazing wedding days in 2020. We are so ready to fully get back to work and be a part of your fabulous 2021 wedding day.