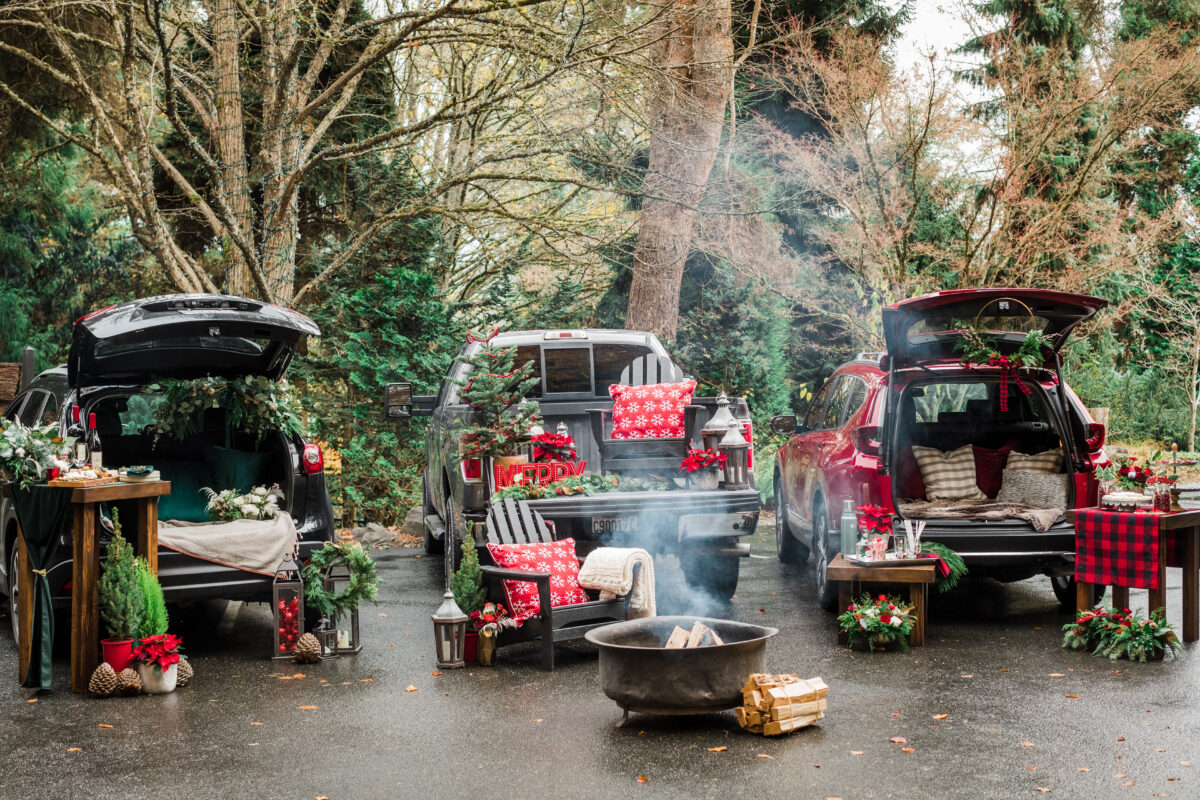 While the Pandemic continues to bring 'gifts' of altered plans this Holiday Season, it has made our desire to gather safely with those we treasure the most that much more special. To kick-off the holiday season Pink Blossom Events, Sublime Stems, Seatown Sweets and A Platinum Event gathered outside for a Holiday Tailgate on the grounds of JM Cellars. Vehicles circled around a firepit were decked out in festive holiday floral and decor and had a gift to share. From a SUV offering wine and charcuterie to a pickup truck filled with holiday presents to another tempting the sweet tooth with hot cocoa and sugar cookies, it was a tailgate party full of Holiday spirit! A big thank you to Stephanie Cristalli Photography for capturing all the details!
With the tailgate up, and a trunk filled with comfy blankets and velvet hunter green pillows, this SUV held a wine and charcuterie station featuring JM Cellars wine and the most delicious charcuterie board from A Platinum Event! Details of golds, creams and greens and floral details filled with cotton, ferns, evergreen branches and magnolia leaves gave this black SUV an elegant, yet natural look.
The silver pickup truck, brought by Pink Blossom Events, was decorated in all it's Merry with a Christmas Tree strung with cranberry garland, large wood lanterns, poinsettias, an evergreen swag and a set of black adirondack chairs adorned with red snowflake pillows. The perfect setting for gifts that would soon come!
The decor for Seatown Sweets red SUV was inspired by a red and black buffalo plaid runner that covered the wood table which displayed the most festive sugar cookies and a hot cocoa station filled with snowflake marshmallows and peppermint hot chocolate to stay warm! It was hard to choose a favorite sugar cookie as the options included red poinsettia cookies, snowflake cookies, evergreen tree cookies and a vintage red truck sugar cookie on a stick displayed in a jar of cranberries. Our favorite unexpected detail was the gnome hidden in the holiday floral arrangement from Sublime Stems.
With the Holiday Tailgate set, we gathered around the firepit with wine and sparkling cider in hand to toast to the Holiday Season and friendships around. And because an outdoor tailgate isn't complete without a pup in hand, Maverick joined the tailgate and wore a floral and greenery swag on his collar.
Once in our vehicles, a safe distance away, we could enjoy the celebration without our Holiday masks on however once we got up to grab a sweet or savory bite or partake in cookie decorating or roasting a marshmallow around the firepit our masks went right back on.
With bellies full the gift exchange began! Evergreen Custom Gifting filled the pickup truck with gifts curated from local PNW makers and artisans that would be shared amongst the group.
Presents included gifts centered around a Holiday paint-by-number; a Santa and Theo Chocolate hot cocoa themed gift and note to miss a Woodinville Wine Country inspired gift to enjoy this Holiday Season.
As the sun began to set it was time to wrap up our tailgate. One more bite of cheese, one final sip of wine, one more roasted marshmallow and a chance to squeeze in one more laugh around the fire with friends. What began as an idea on the hiking trail this fall turned into the perfect way to gather safely this Holiday Season!
Wishing you a Holiday Season filled with Safe Gatherings!
Event Planning & Design: Pink Blossom Events
Photography: Stephanie Cristalli Photography
Floral: Sublime Stems
Cookies: Seatown Sweets
Venue & Wine: JM Cellars
Charcuterie Board: A Platinum Event
Custom Gifts: Evergreen Custom Gifting
Rentals: CORT Party Rental