Waterfront Weddings and the Pacific Northwest come hand in hand. Alli and Andy's wedding at Alderbrook Resort & Spa was the ultimate waterfront wedding filled with laughter, romance, beautiful details and a touch of royalty! Soft florals, a hint of blush, rich green accents and a pop of navy came together to create one stunning day on the Hood Canal all photographed by Alexandra Knight Photography. Alderbrook was a special place for Alli and Andy. Not only were they marrying at Alderbrook but the location of Any's proposed and a place they had gone on vacation with Alli's parents the same week the prior year.
One of our favorite stories from Alli and Andy's wedding is the story of Alli's dress. In the words of Alli, here is that very story:
"While enjoying the Rick Steve's walking tour of Madrid last October, my maid of honor Lauren and I were both taken by a dress shop we happened to be walking by. We'd started the initial, "what kind of dress do you want?" steps of wedding dress shopping with my mom in Seattle, but hadn't found anything that jumped out at us. This was different, but Andy was also walking about 20ft ahead of us with our friend Erik… so we had to move fast.
Lauren and I ducked into the store and quickly texted the guys on our group chat to let them know that we'd meet them at the hotel because we'd stopped into a dress shop. Erik surprised us both when he responded, "the dress shop." Lauren and I had been behind in our audio guide and it turned out that the next stop on the guide was for Pronovias, "a famous Spanish wedding-dress shop that attracts brides-to-be from across Europe."
The dresses were gorgeous and I was bummed we were leaving Madrid the next morning. While internetting from the hotel that night, I found out the Pronovias flagship was actually in Barcelona, our next city! I immediately sent a request for an appointment. Their only available one was our last afternoon before we flew home the next morning. I booked it, figuring we'd have fun and just try on a bunch of random dresses.
After finishing our sightseeing with the group, Lauren and I left the guys at Barça Stadium and headed to our appointment. We sat down with a wonderful sales associate and as we explained Alderbrook and what I was looking for… her eyes lit up. I'll save you the long ending and just say, I bought the first dress she had me try on. We did our due diligence and tried on some others… but then I put the first one back on to FaceTime my mom back in WA and show her and she immediately removed some of our negotiating power by yelling, "YES TO THE DRESS" loud enough for the associate to hear!
The dress fit like it was made for me and they even altered the front hem overnight so we could pick it up on the way to the airport and I could carry it home on our flights. Still feels surreal no matter how many times I tell the story!"
Incorporating their favorite things, Alli and Andy, welcome their friends and family to Alderbrook with these custom welcome gifts created by Evergreen Custom Gifting. Swedish Fish, Theo Chocolate bars, Fremont Brewing summer ale (or Dry Soda), a pair of custom pint glasses printed by Pomp & Revel, apples and a Seattle inspired tote bag.
After a private first look within Alderbrook's trail system, Alli and Andy gathered with their wedding party and family for photos.
Their wedding party was looking sharp! Bridesmaids in forest green floor length dresses with Andy and his groomsmen in cobalt blue suits and complimentary green ties. Bridesmaids bouquets were composed of lush greenery with white floral accents (ranunculus, hydrangea, roses, lisianthus) and a touch of blue thistle. Alli's bouquet was of similar composition yet stood out with her favorite Sara Bernhardt pink peonies – stunning!
"I love her and that's the beginning and end of everything." F. Scott Fitzgerald
With the Hood Cancal as their backdrop, Alli & Andy were wed!
Love is patient, love is kind. It does not envy, it does not boast, it is not proud. It does not dishonor others, it is not self-seeking, it is not easily angered, it keeps no record of wrongs. Love does not delight in evil but rejoices with the truth. It always protects, always trusts, always hopes, always perseveres. Love never fails. 1 Corinthians 13:4-8
Cheers! With the signing of the marriage license, the newlyweds joined cocktail hour! Grand Marnier Prawns, Heirloom Tomato Ragout, Bacon Endives, and Mushroom Tartlets were tray passed.
With cocktail hour over, loved ones found their names written (in white via a local calligrapher) on emerald green escort cards from Dahlia Press displayed in individual gold frames.
Sitting under the clear top tent, guests found their tables which were covered in white linens, circled with gold chameleon chairs and topped with stunning centerpieces in gold compote vases from Fena Flowers, square mirrored table numbers and gold mercury votives sourced by Alli. Place settings were signified with Veneto gold chargers accented with fern leaves displayed underneath and accent with forest green dinner menus.
Falling in love with Prince Harry and Meghan Markler's weddig cake, we worked with Alderbrook Resort's pastry chef and Fena Flowers to create Alli & Andy's very own royal wedding cake! Three delicious flavors were awaiting to be enjoyed as the newlyweds were announced into dinner and kicked off dinner with a ceremonial cake cutting. Marble cake with vanilla buttercream frosting and raspberry preserves; vanilla cake with vanilla buttercream frosting and blueberry preserves and a vanilla cake with vanilla buttercream frosting and blueberry preserves.
After dinner, highlighted by duo plates of beef filet & salmon, slices of wedding cake and flutes of champagne were served in anticipation of toasts soon to come. After toasts first dances were held on the outdoor patio before the ballroom doors opened to kick off a night of dancing and ice cream sandwiches!
A trio of ice cream sandwich flavors made choosing a favorite flavor a hard one! Canal crunch ice cream with toffee cookie; vanilla ice cream with chocolate chip cookie and mint chocolate ice cream with chocolate cookie were all a hit!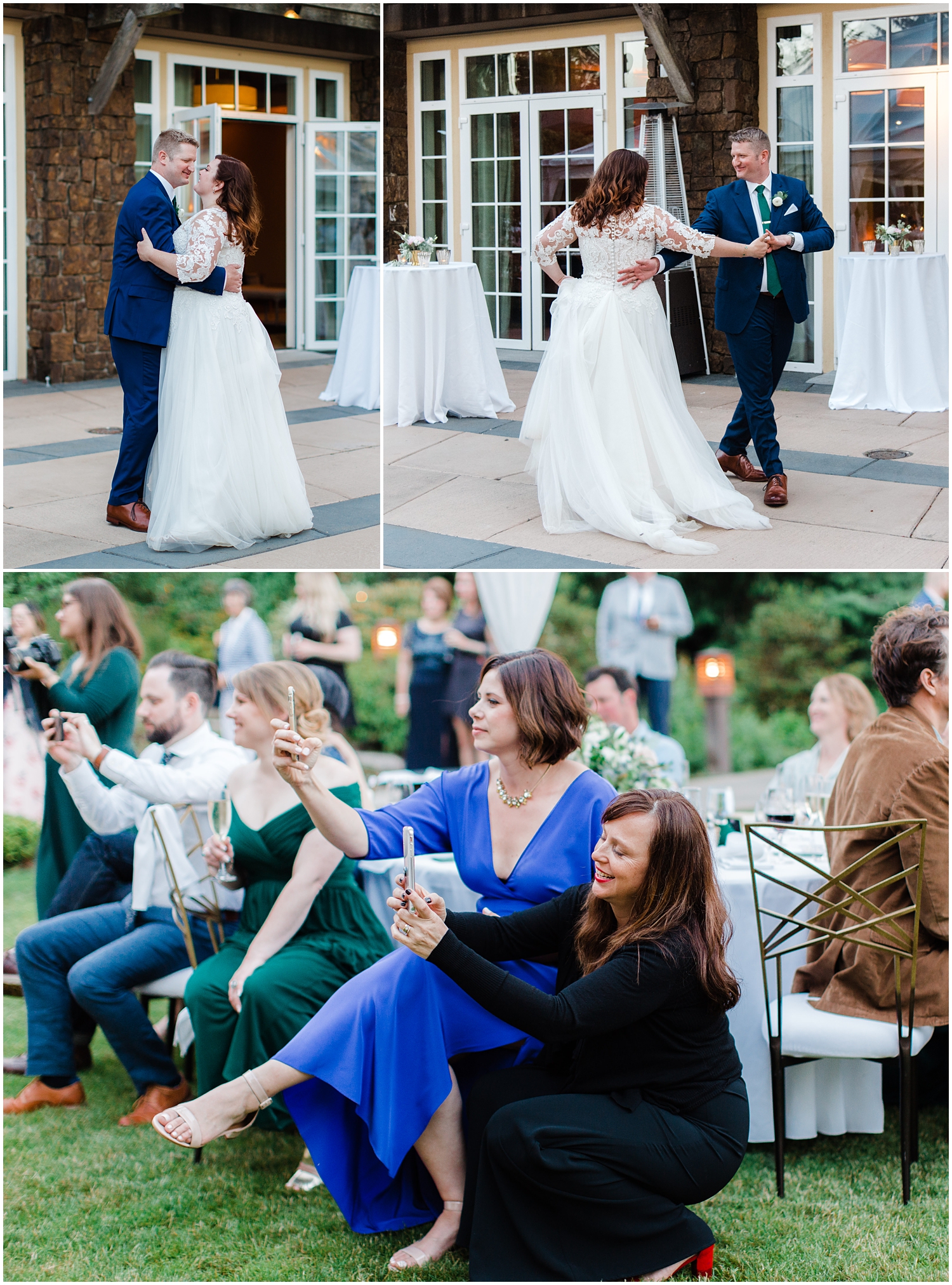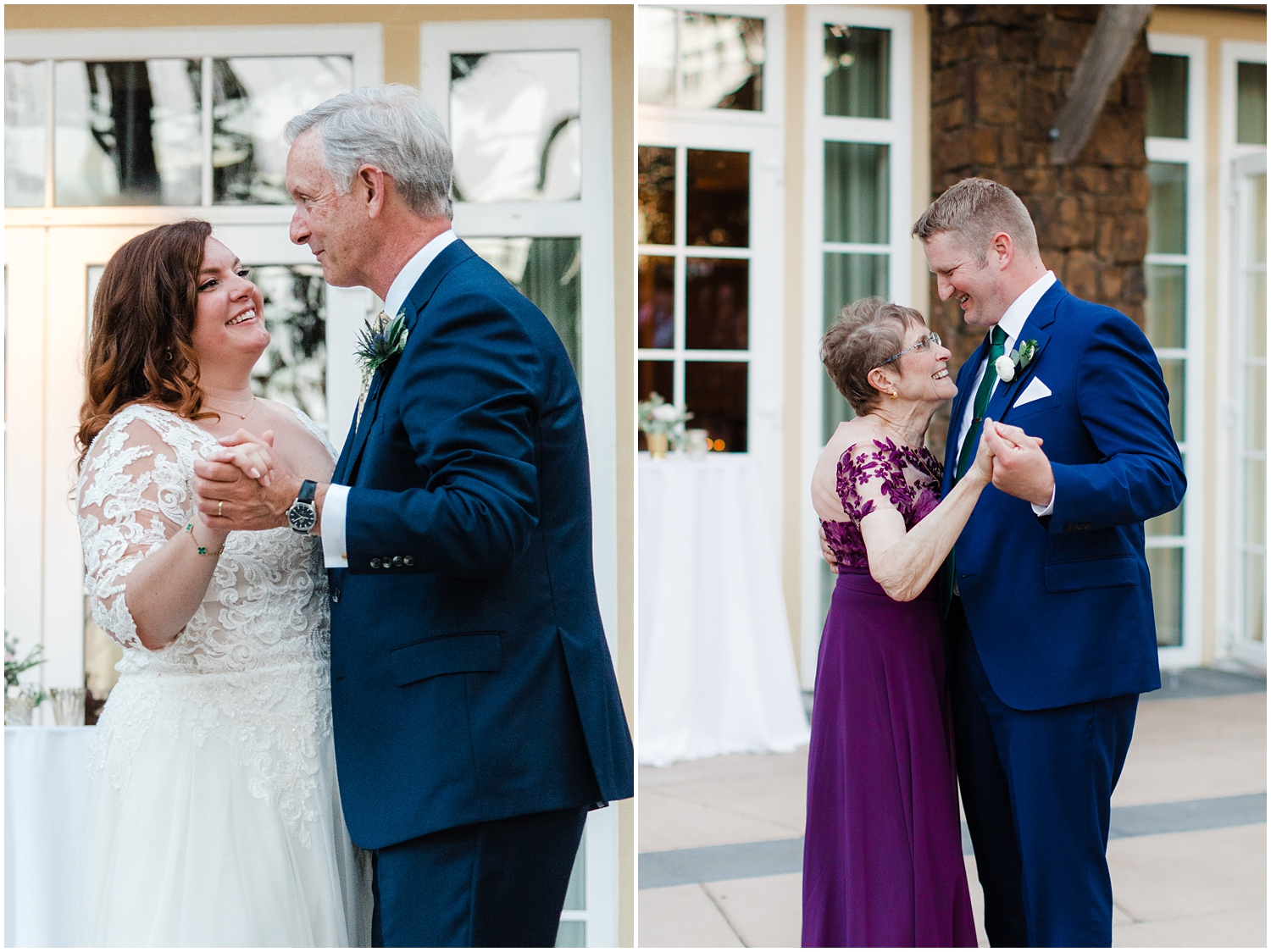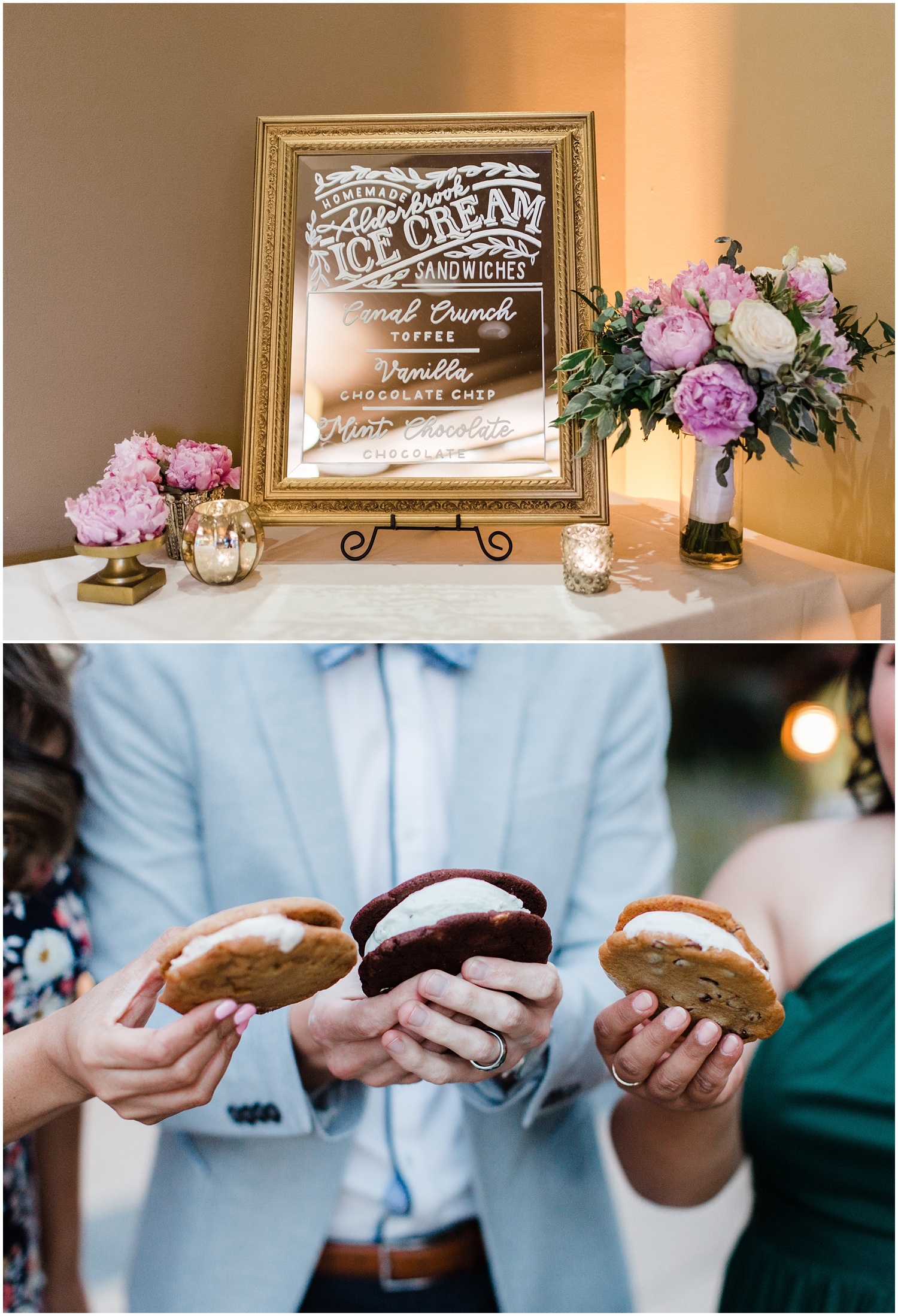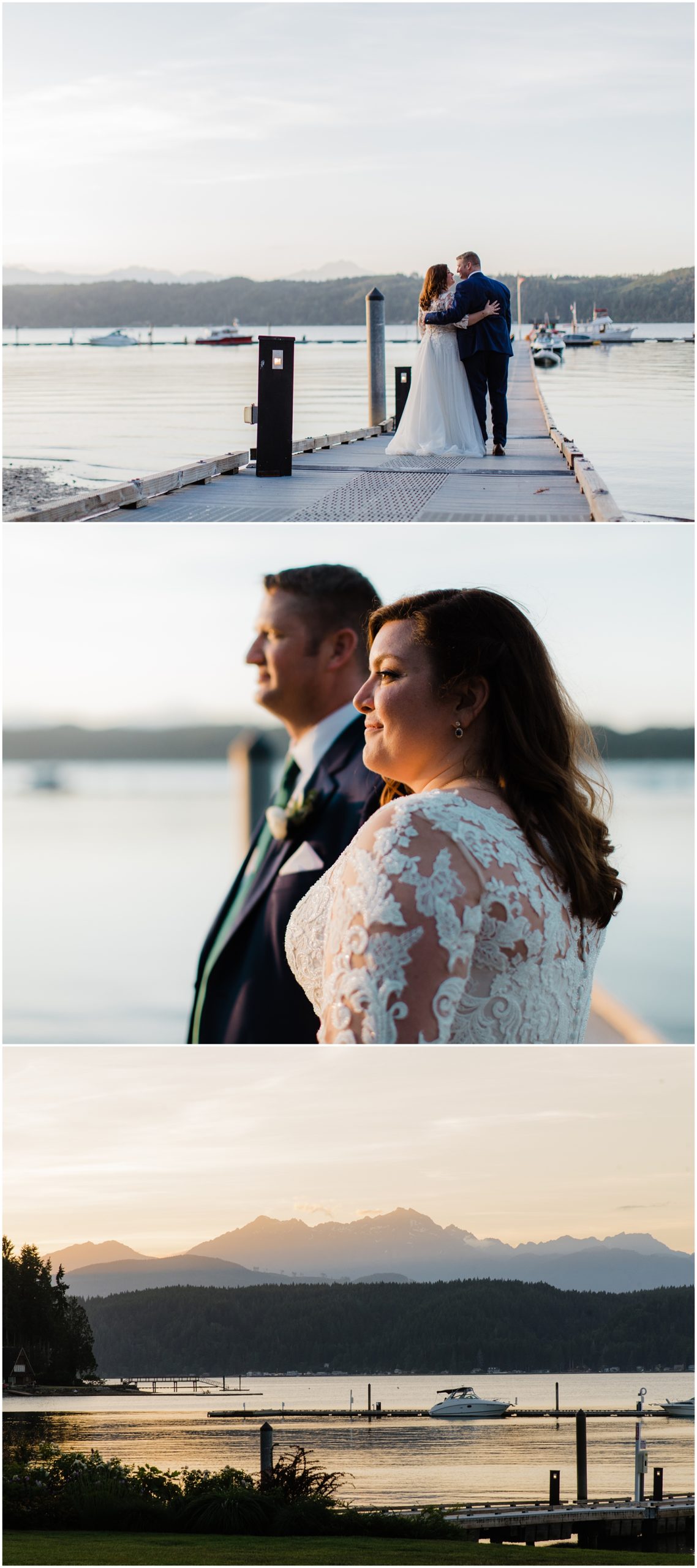 …thank you SO much BreeAnn for all you have done to make this such an incredible wedding weekend – Alli
Wedding Planner – Pink Blossom Events
Custom Gifting – Evergreen Custom Gifting
Photography – Alexandra Knight Photography
Venue, Catering & Cake – Alderbrook Resort and Spa
Floral – Fena Flowers
Rentals – CORT Party Rental & Fanciful Rentals
DJ – Bugsie Productions
Videography – Peak Digital Cinema
Stationery – Chloe Clarke Paper (Dahlia Press)
Beauty – Kat St. John Makeup & Styling
Bridal Gown – Pronovias
Childcare – Stay & Play Childcare
Photo Booth – The SnapBar
Engagement Ring – Bea Millen