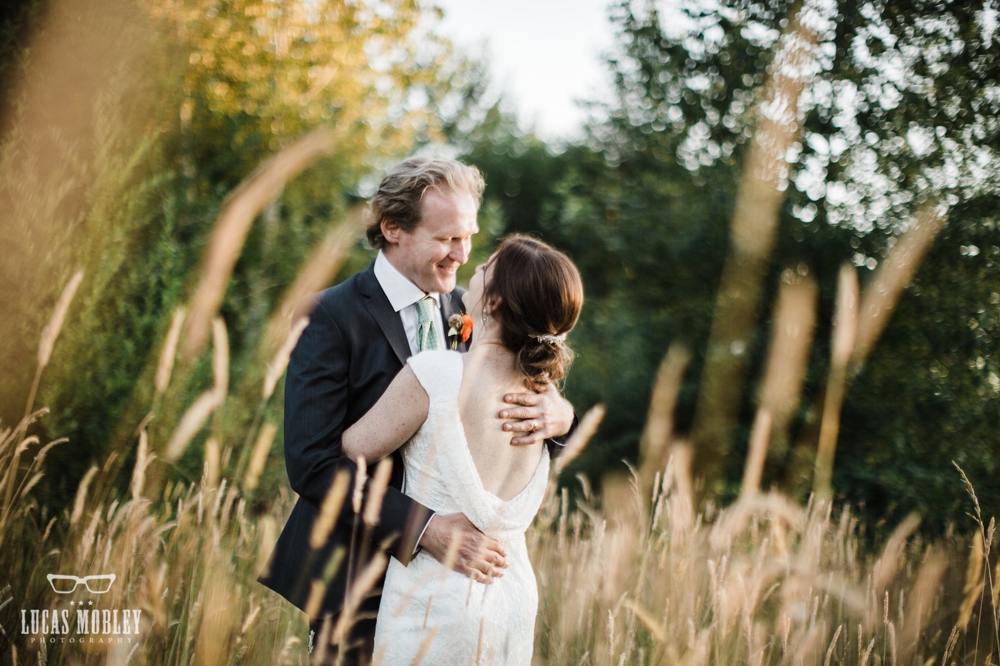 Julie and Walter's story begins at a VA medical center. It might not be the first place you think of when you think 'romance.' Still, love can happen in peculiar places, and in this case they met within the walls of the Primary Care Clinic. It happened over four years ago. For those who don't know, Julie is a physician with a social worker's heart; Walter is a social worker who once played a physician on stage. They both do their work with focus, compassion and gusto. Maybe it's that enthusiasm they first noticed in each other. As anyone who works in a busy, stressful place will tell you, it is risky to ask a coworker out on a date, even if only for a dog walk or an evening of Karaoke with coworkers. Still that's how their romance started—what is life if not a gamble?
For those of you who don't know, Walter was Julie's assigned social worker. Indeed, he was. Until he fired her, that is. You see, Walter felt a little dizzy when they worked together. And Julie relied on her social worker a lot, rarely missing an opportunity to refer a homeless patient or a distressed caregiver. Walter had to compose himself after meetings with Dr. Silverman—focus was a challenge after those encounters. So Walter met with his supervisor and requested a change. "Dr. Silverman gives me too much work," he lied. "I need to disperse my efforts. She's not the only doctor I work with, you know. She can't rule my time." Once separated from the tension, though, he couldn't separate her from his thoughts. Action was needed. In one of those impulses that changes the course of lives, Walter asked Julie out.
On a blustery Saturday morning, Walter and Julie took their dogs, Buddy and Louie, for a walk around Seward Park. And the rest, as they say, is history. After a year spent together hiking, skiing, backpacking, traveling, sharing poetry and music, dancing, cooking and baseball and spending time with friends and family they married on July 7, 2017 at the UW Center for Urban Horticulture.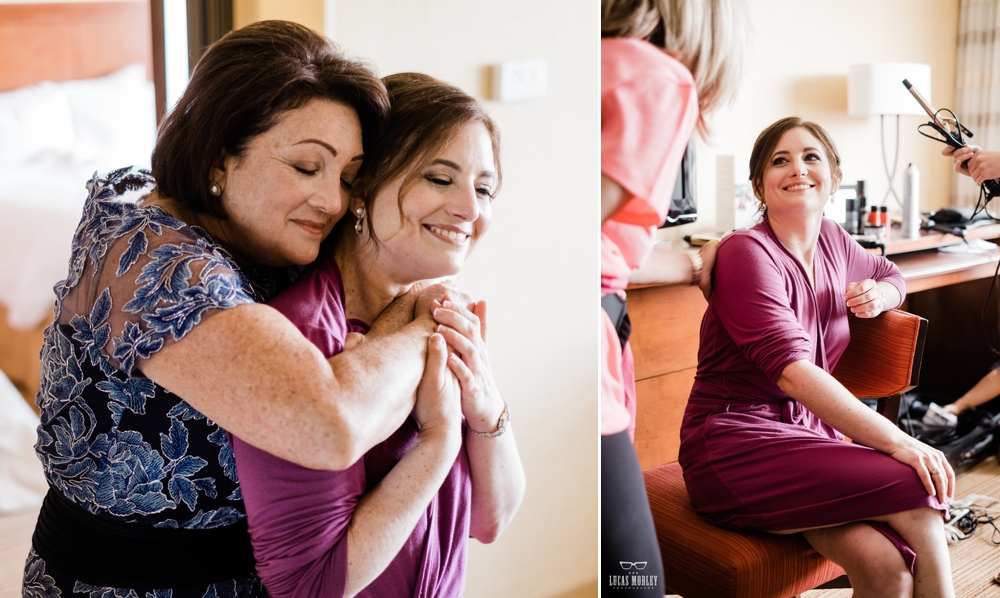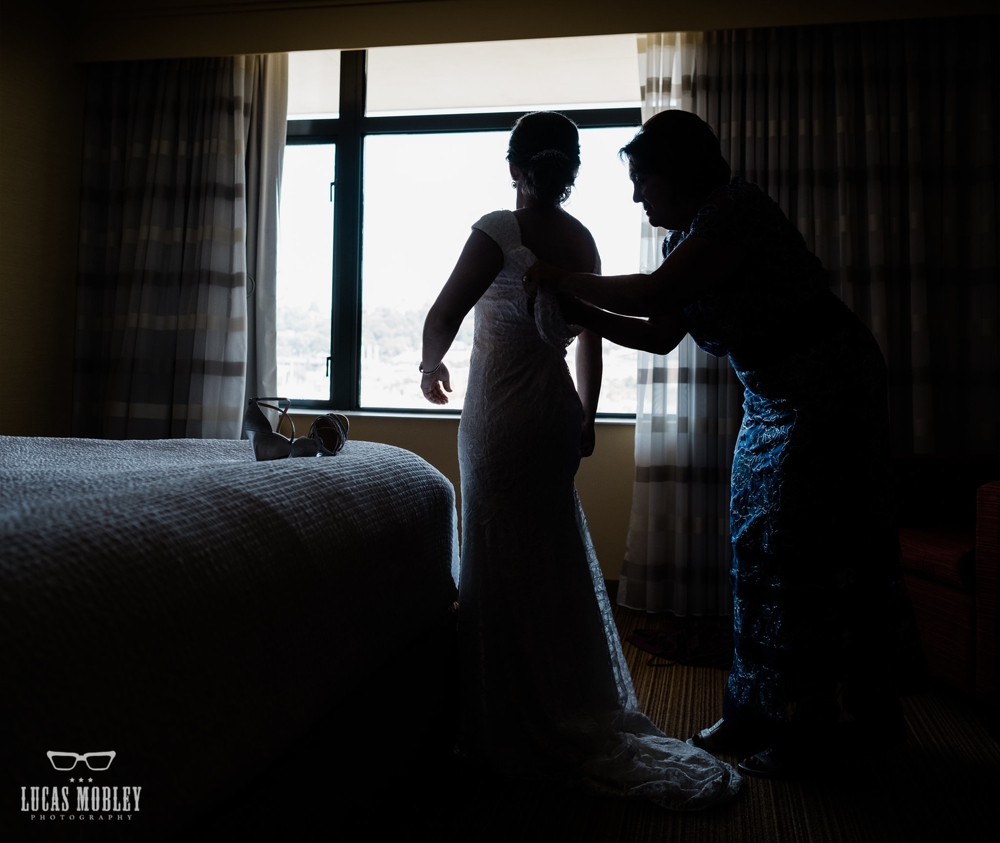 While Julie wanted a more simplistic all white wedding, Walter wished for all the colors under the sun. And so the first of compromises in a marriage was had, white linens for Julie with bright floral for Walter. On a beautiful July summer day, Julie and Walter married in the round, under the Chuppah, as loved ones watched them repeat their vows. With the breaking of the glass, they were officially wed and it was time to celebrate! As the sounds of a Klezmer Band played guests dined on appetizers, sipped cool beverages and meandered through the tree filled grove. With guests seated under the reception tent, the Rabbi did a blessing over the Challah. A delicious meal broken up with toasts ended as the sounds of a bagpipe led friends and family up to the McVay Courtyard where Walter serenaded Julie before taking their first dance as husband and wife. A night of dancing, cake and the Hora were had before wedding guests were shuttled back to their hotel late that evening.  Photos by Lucas Mobley Photography.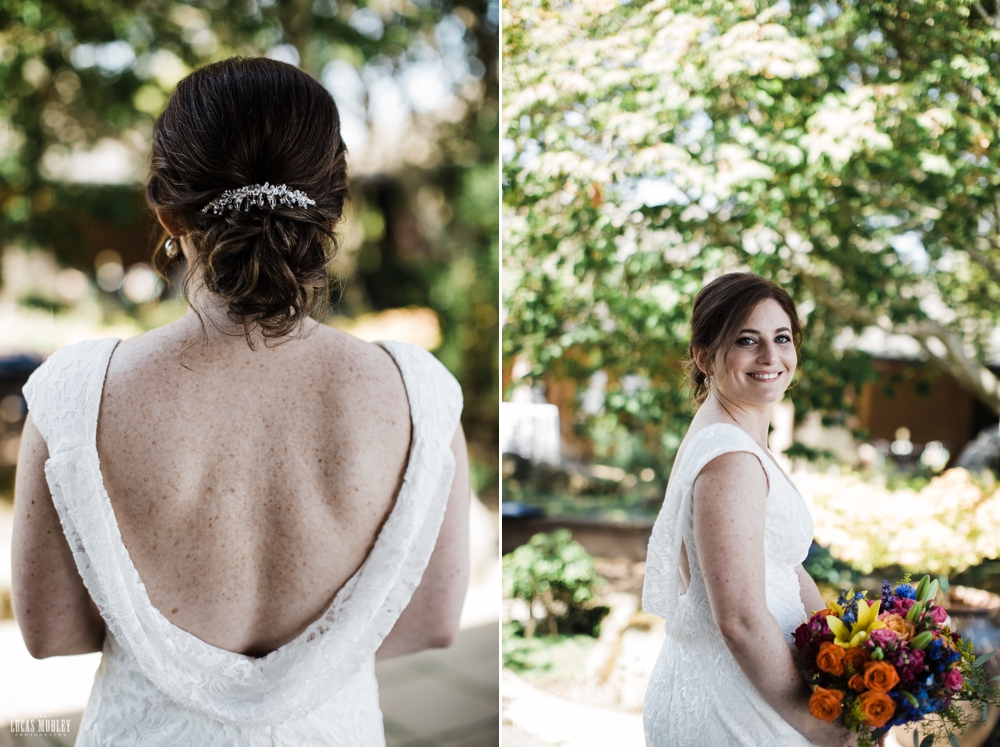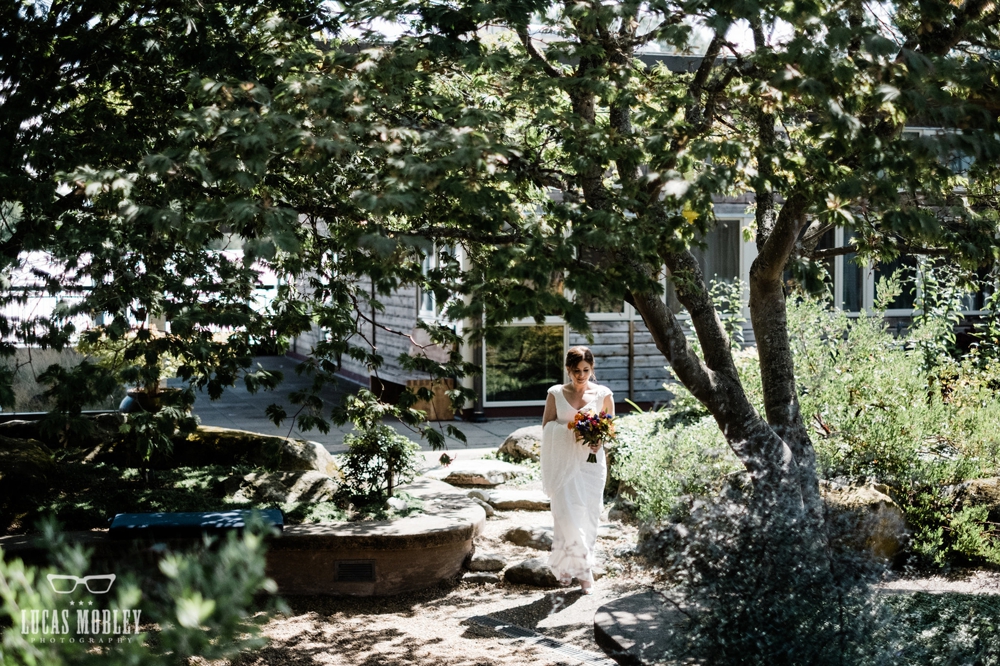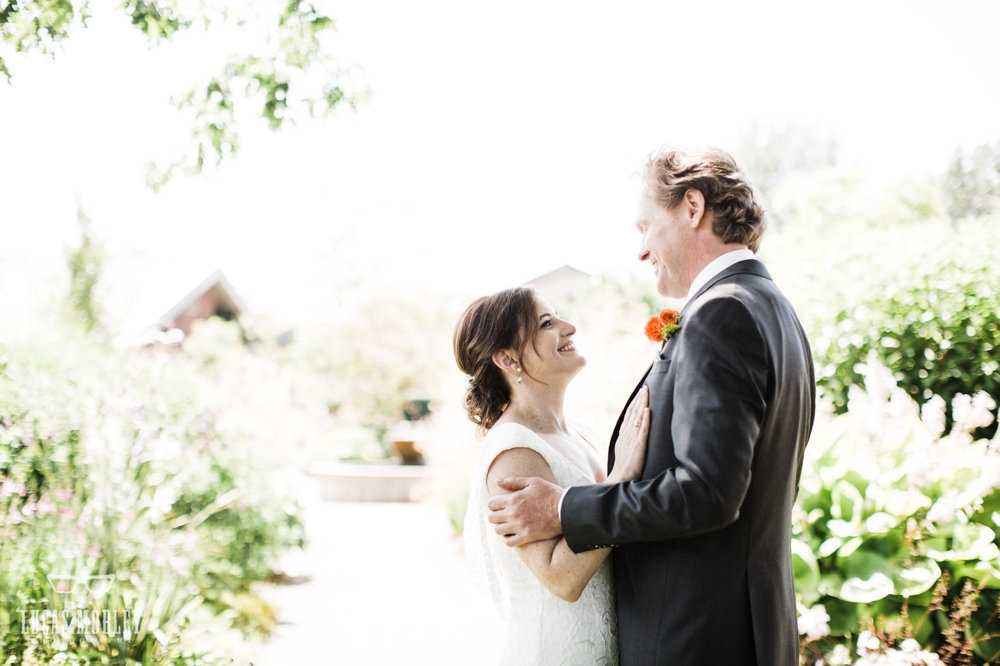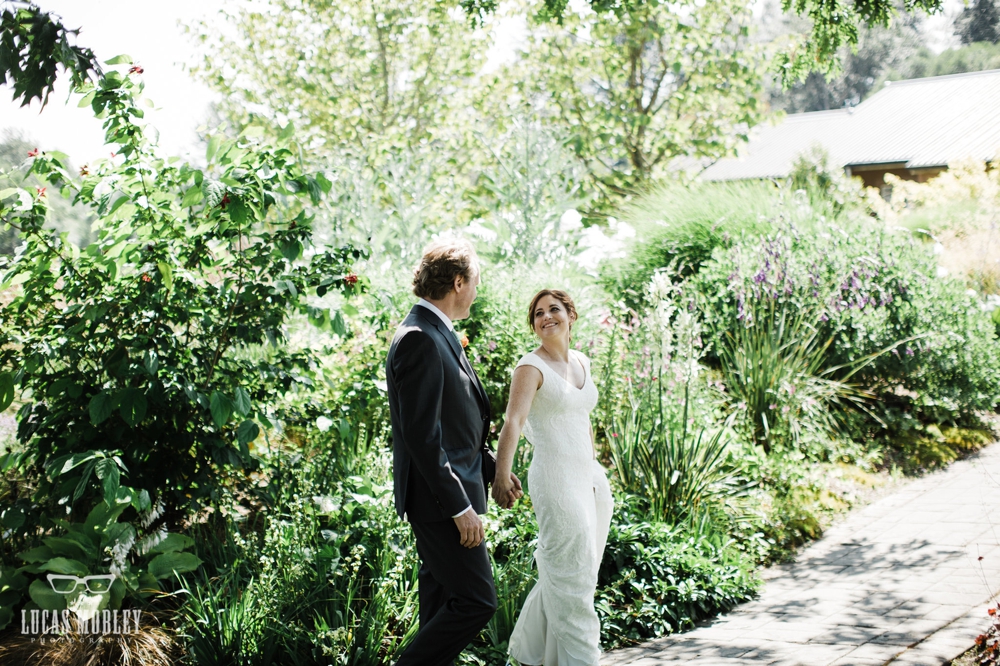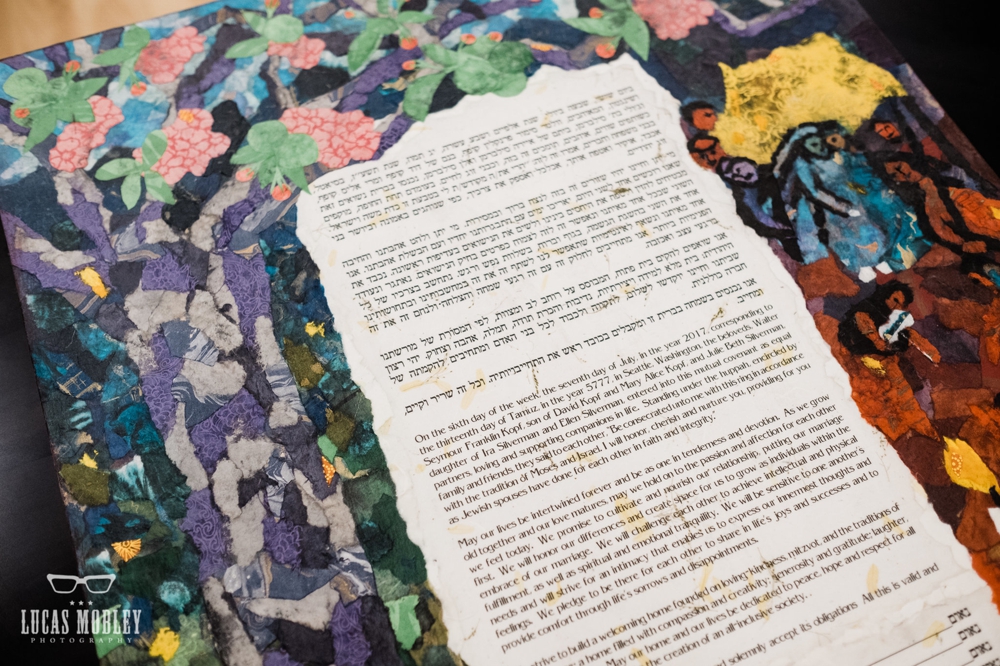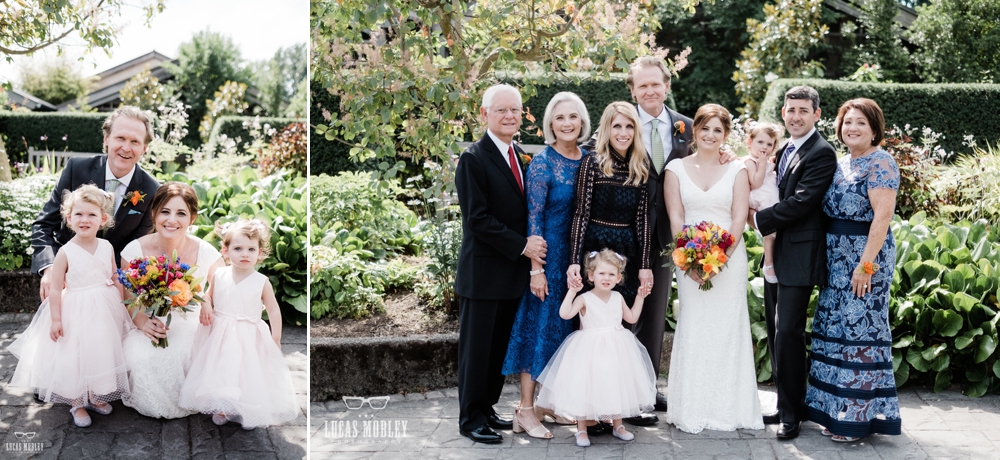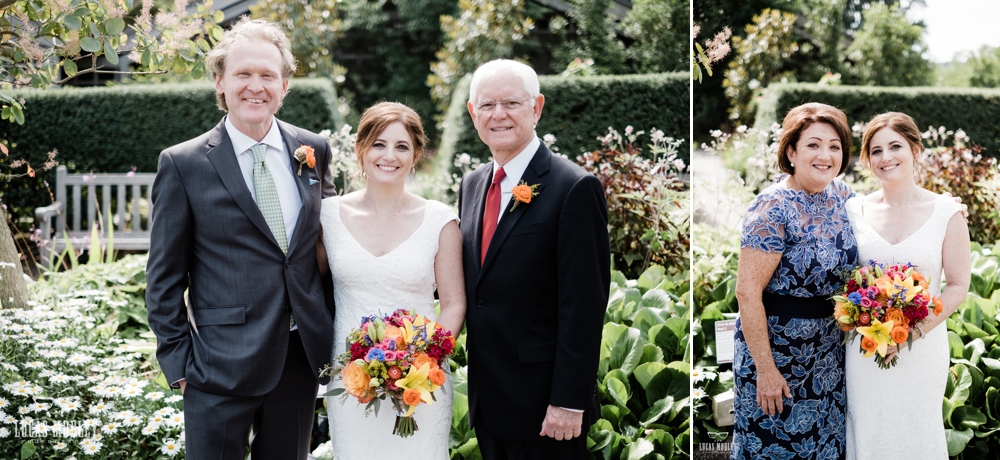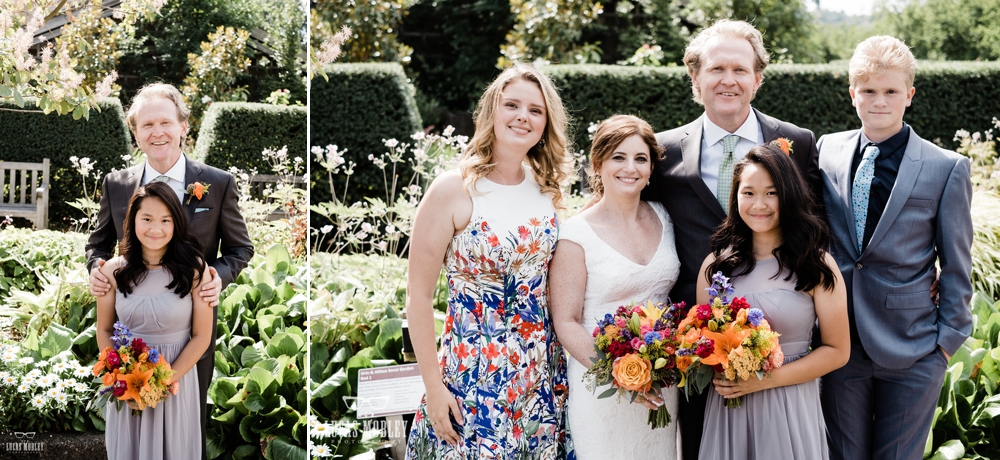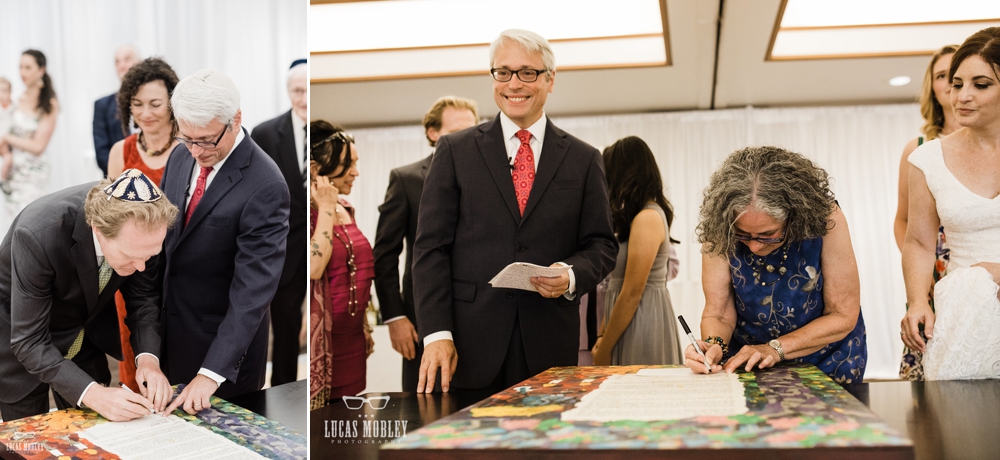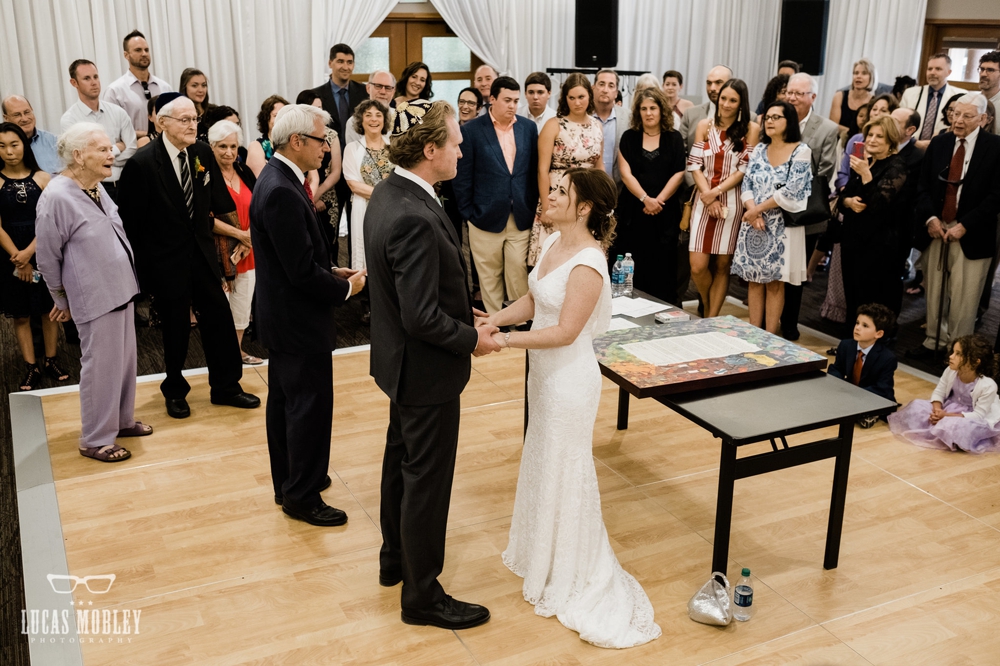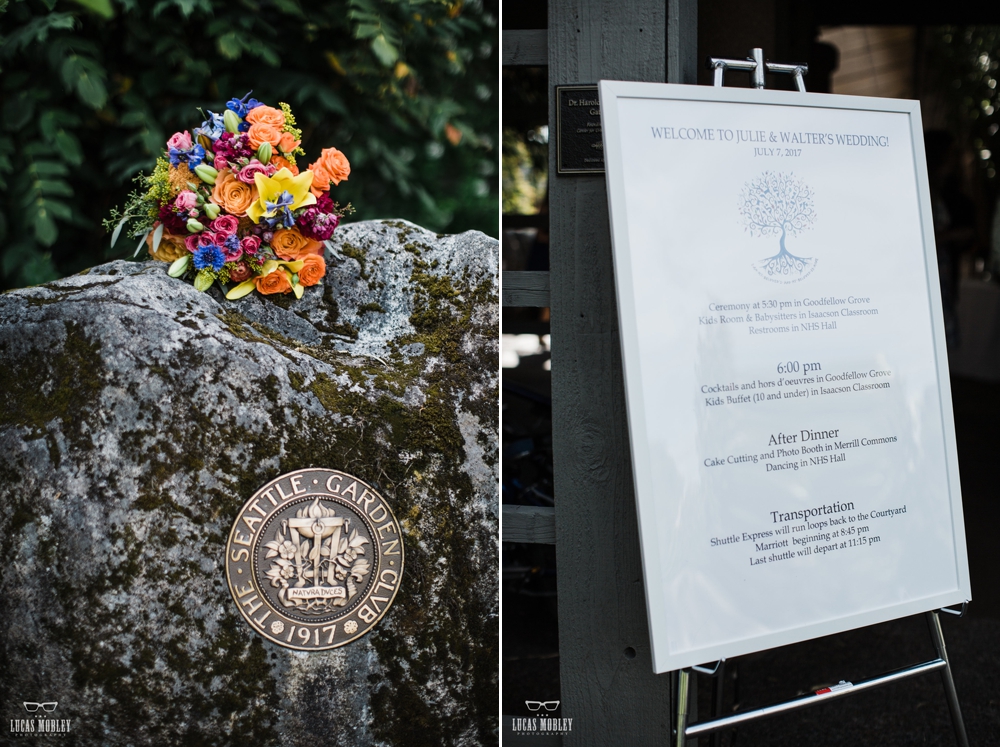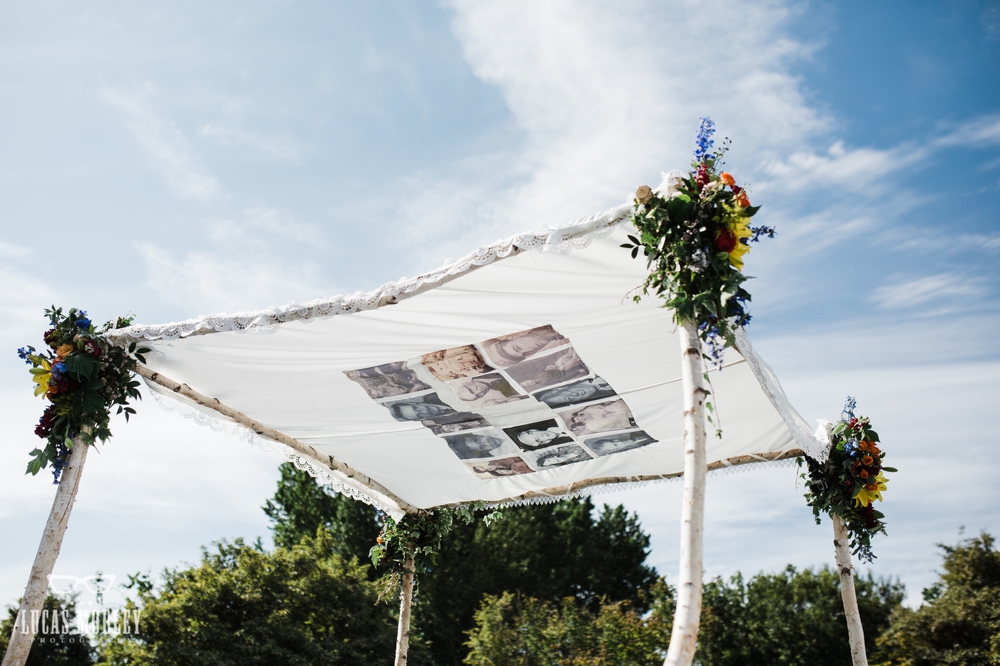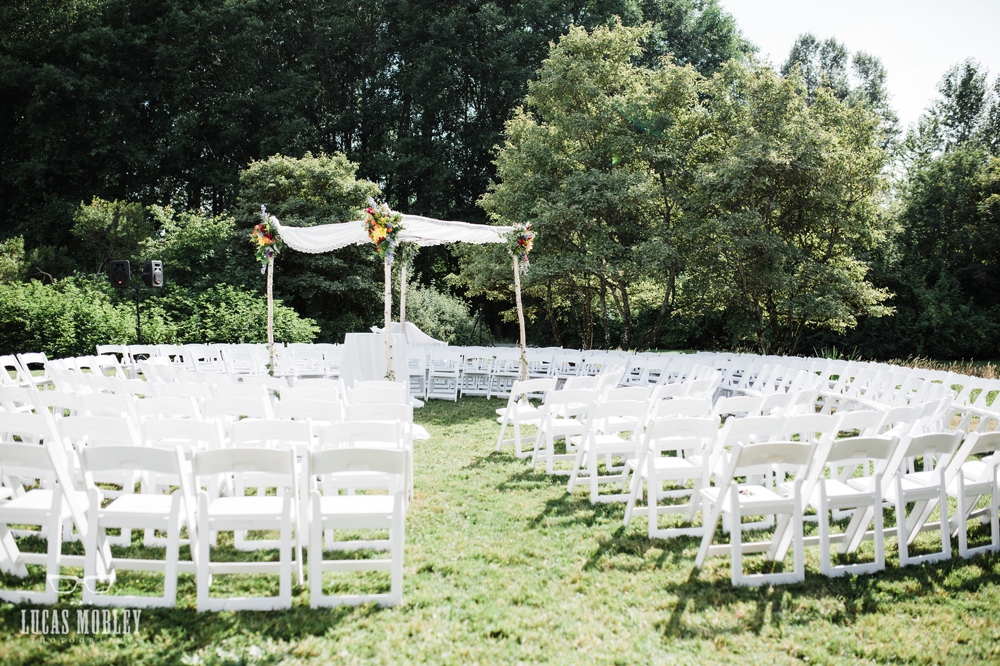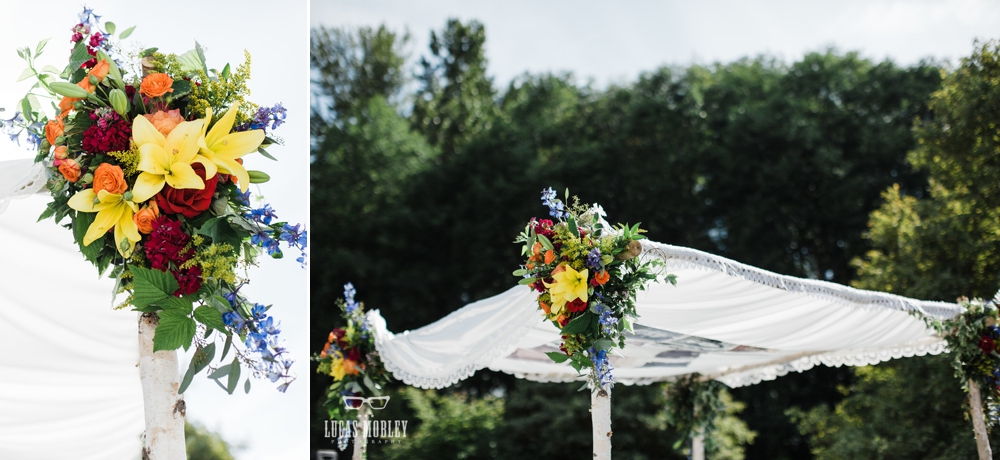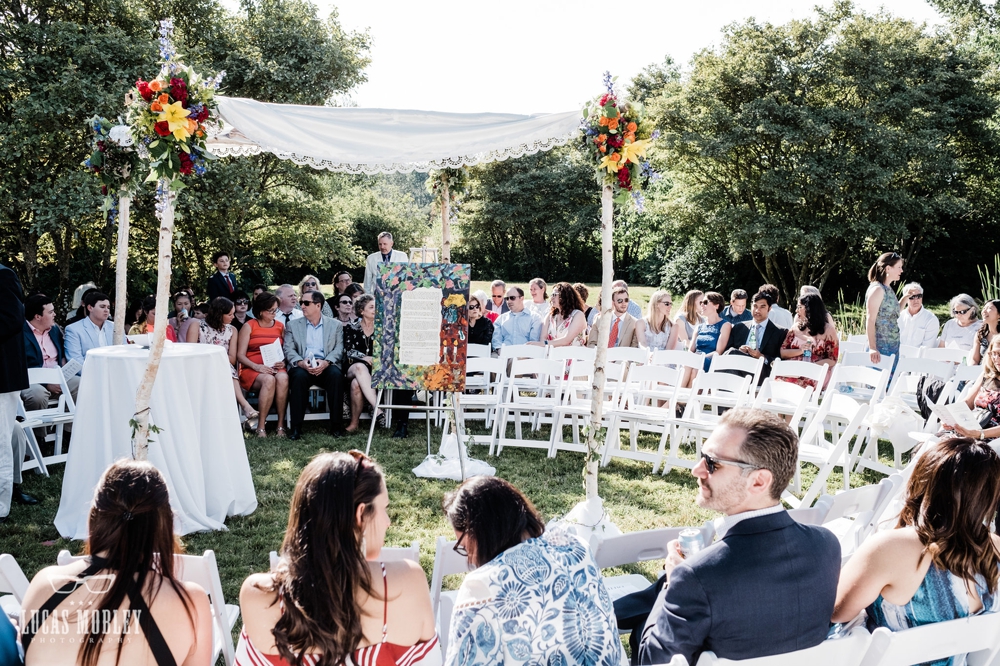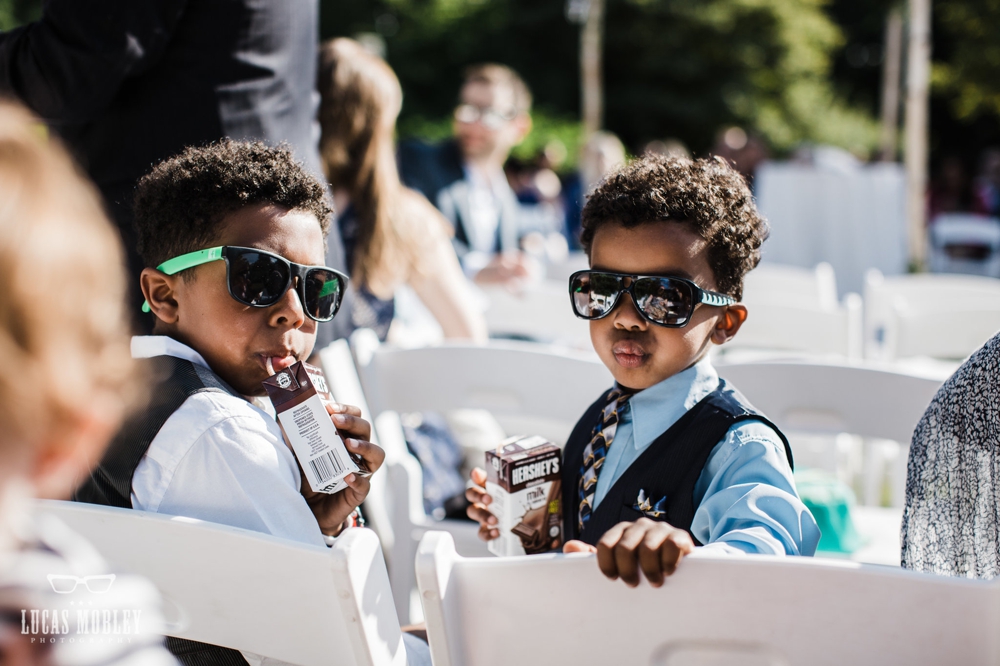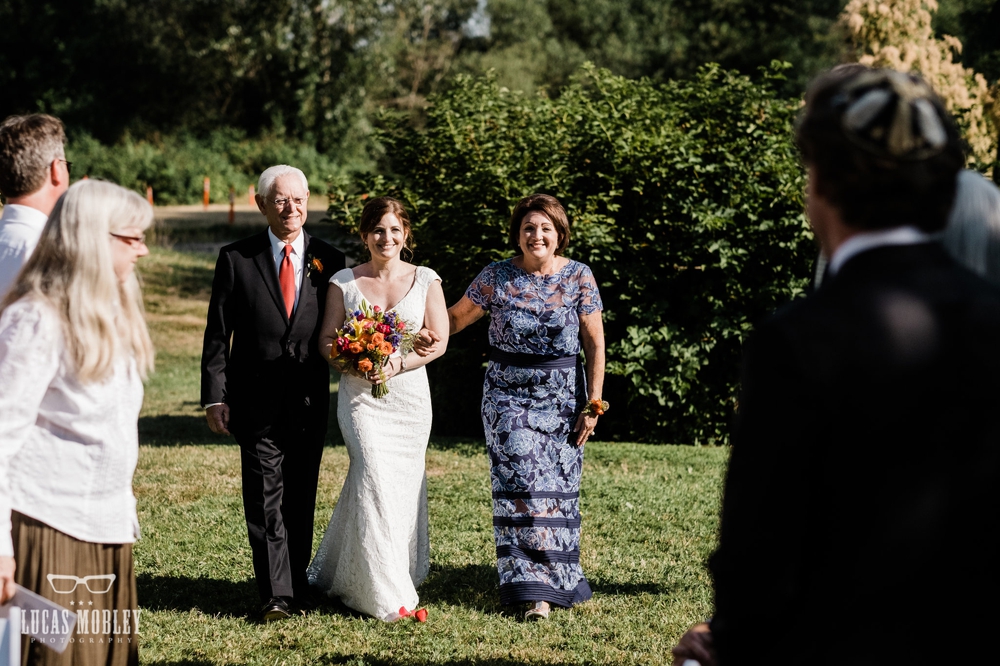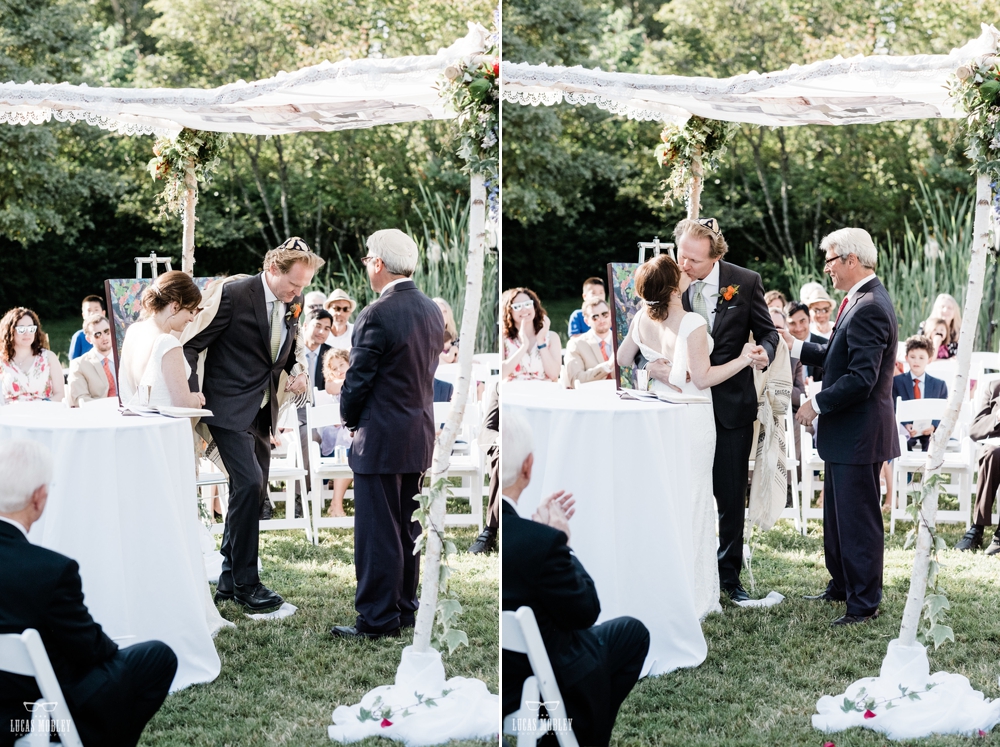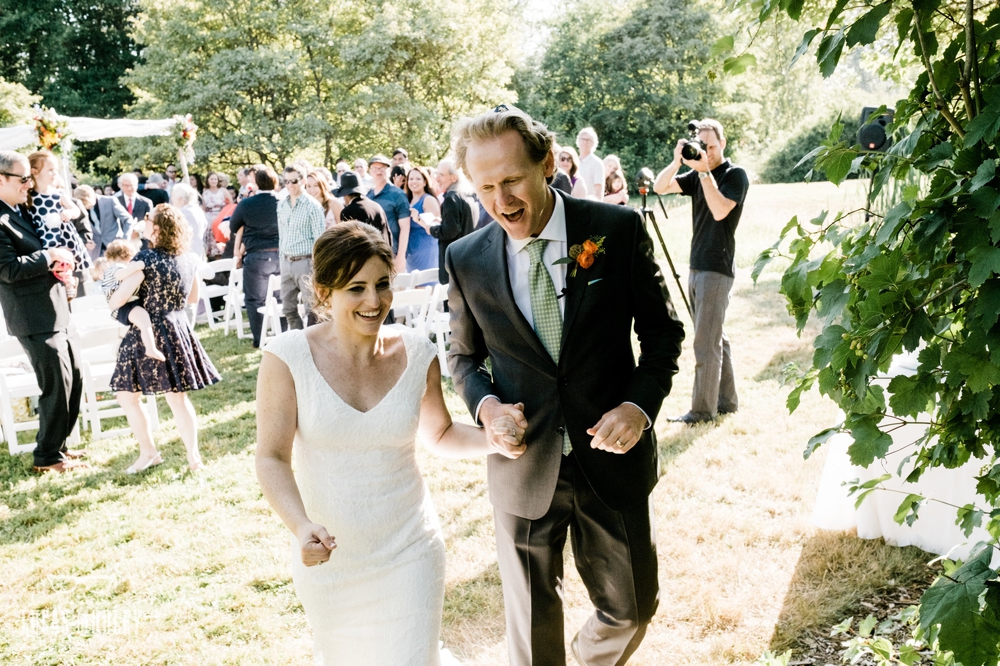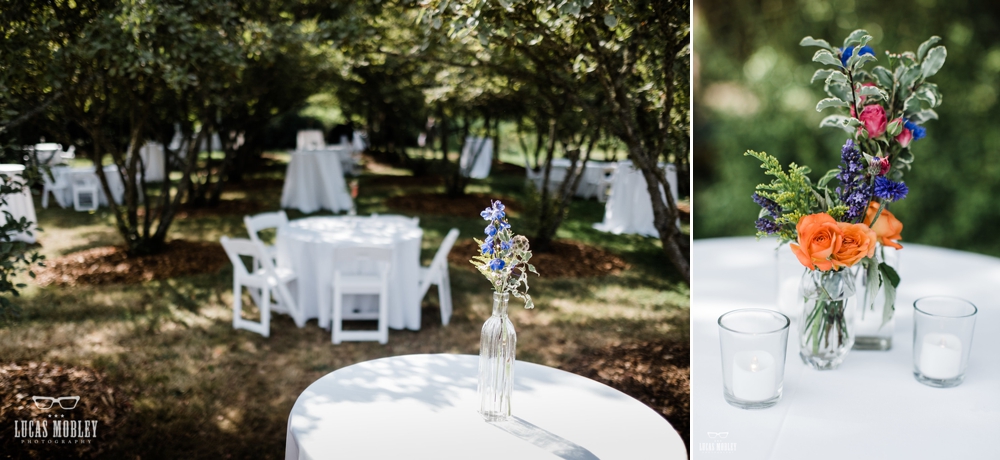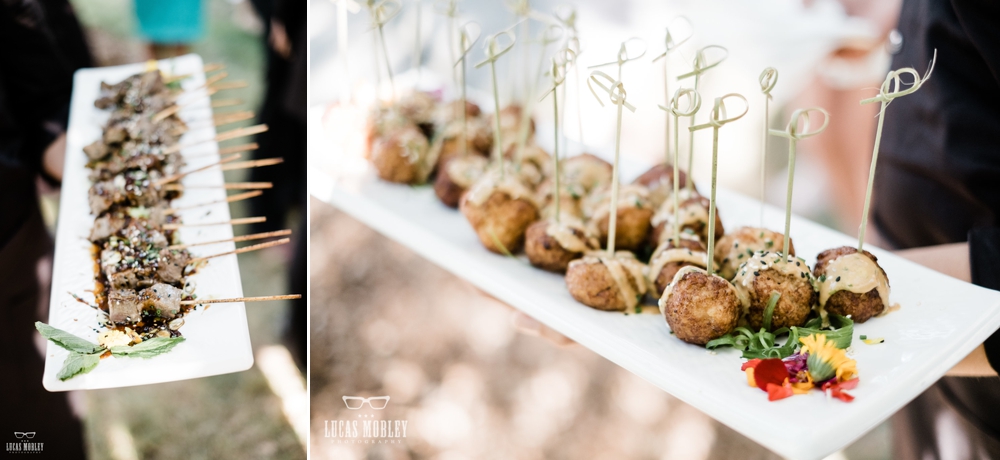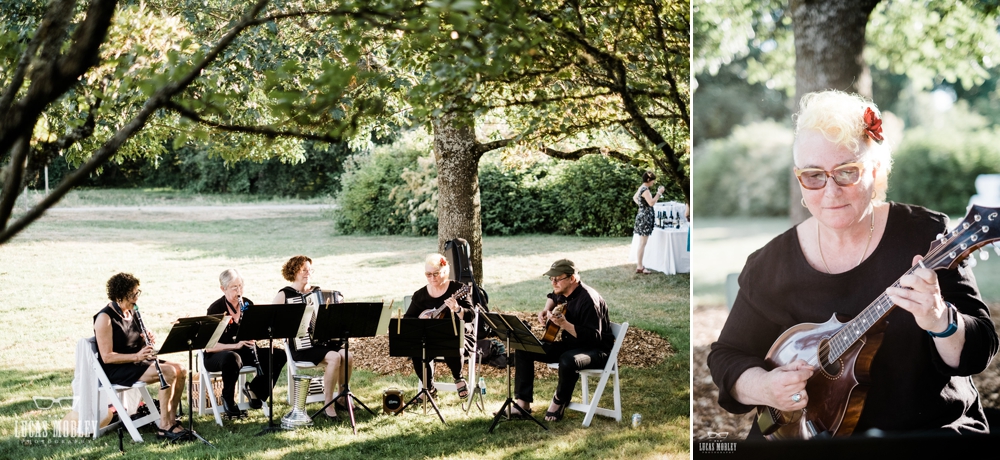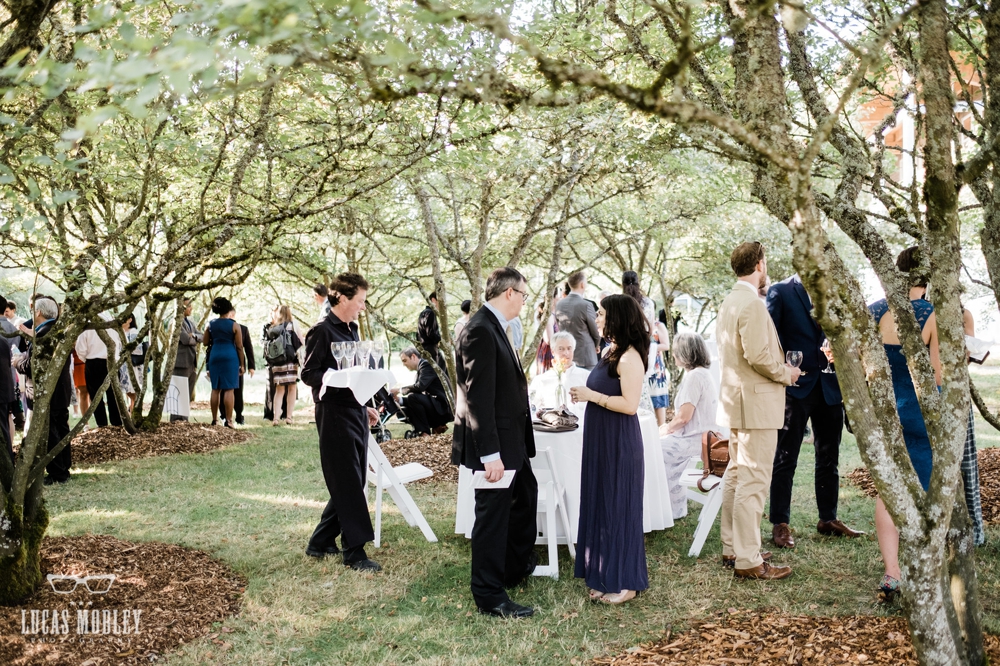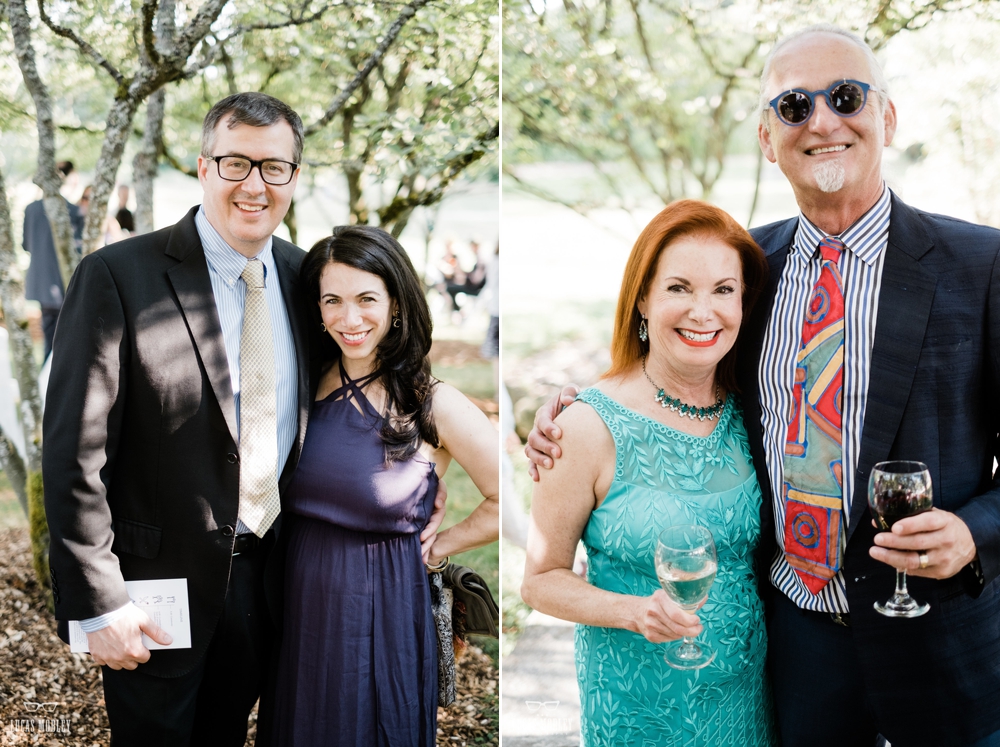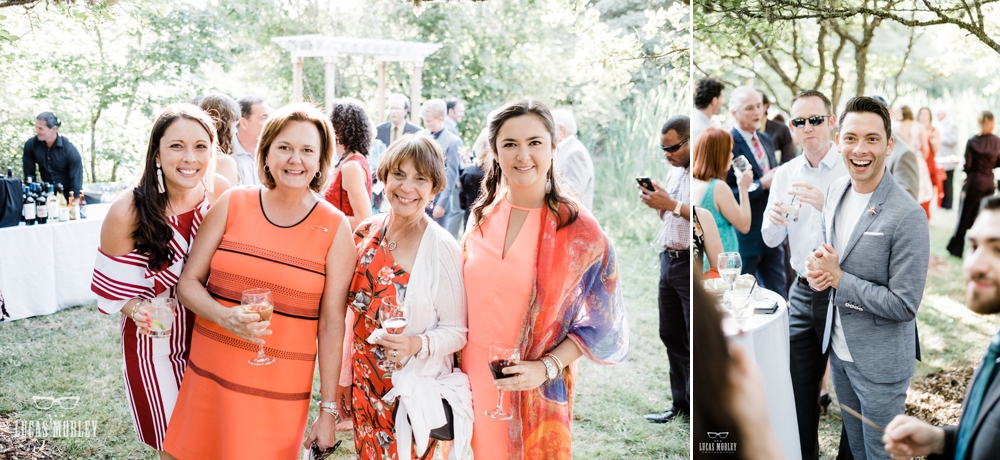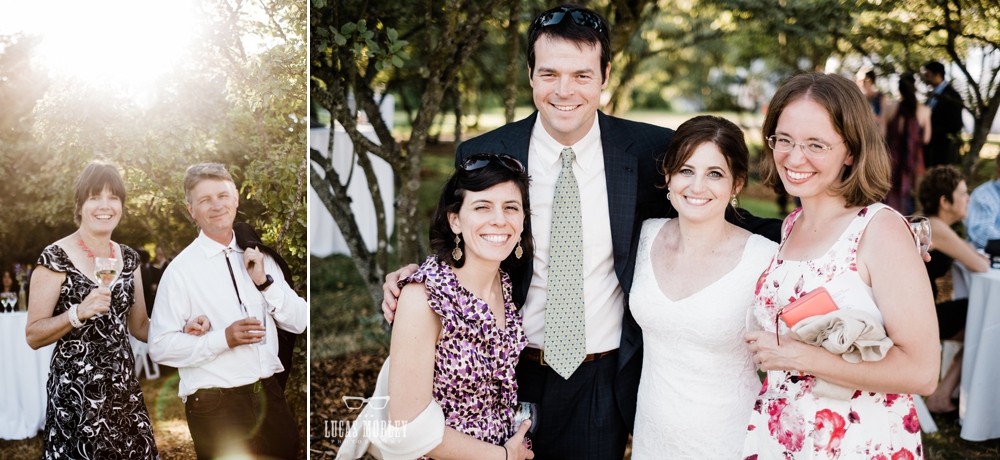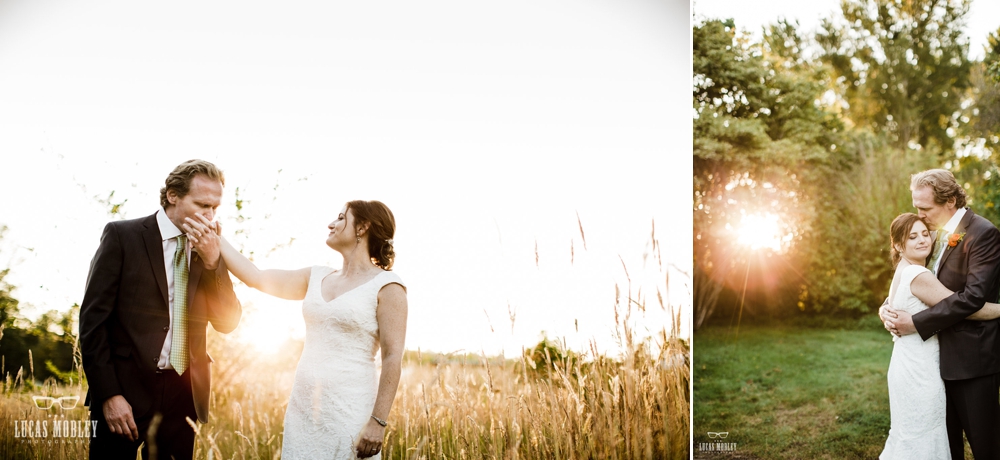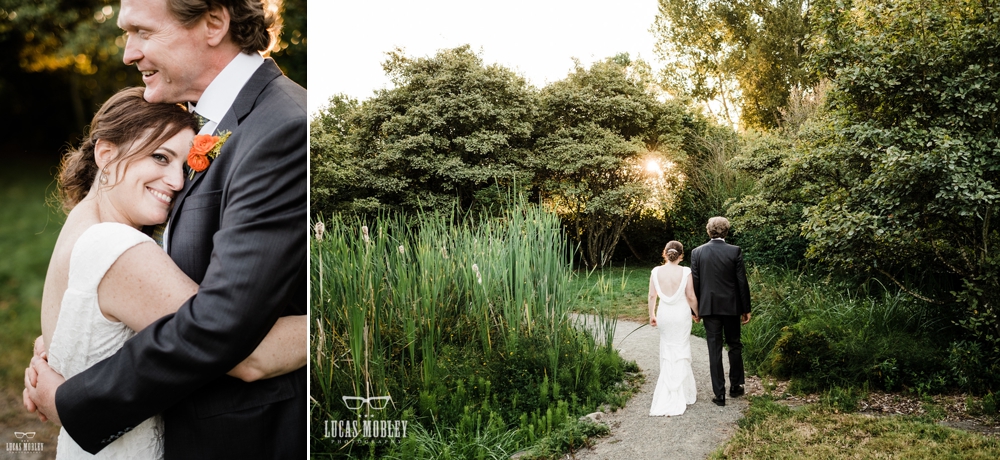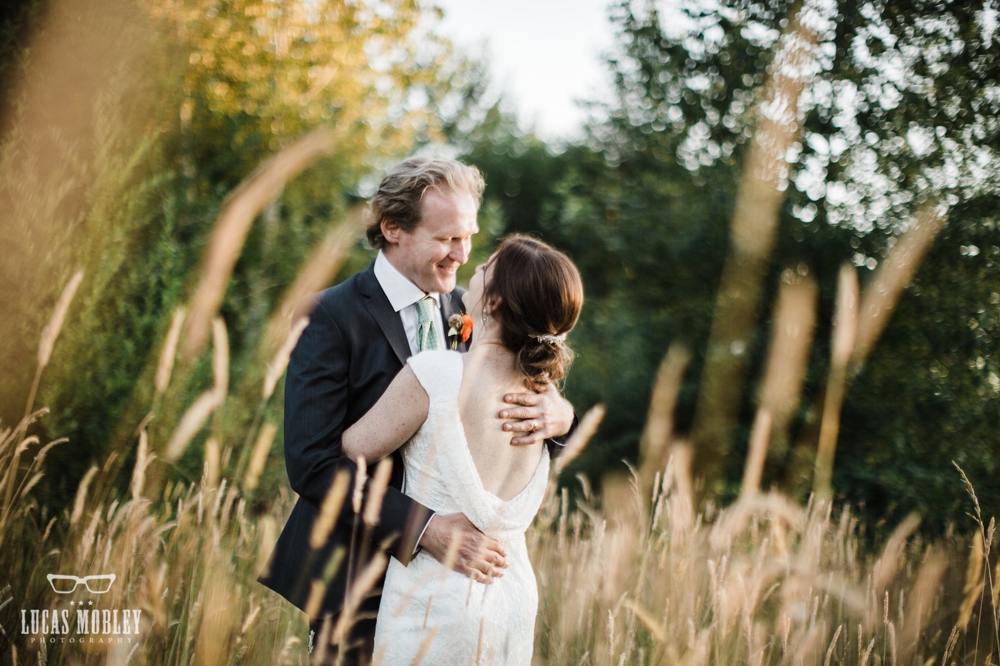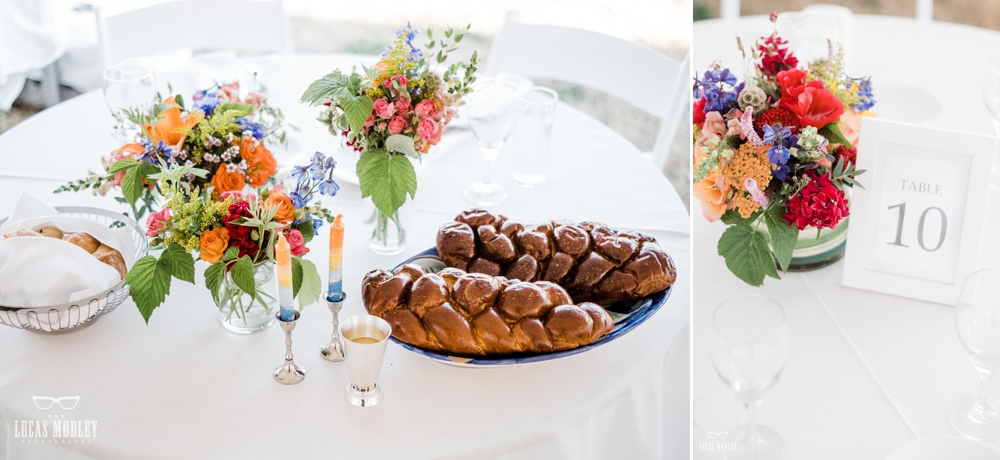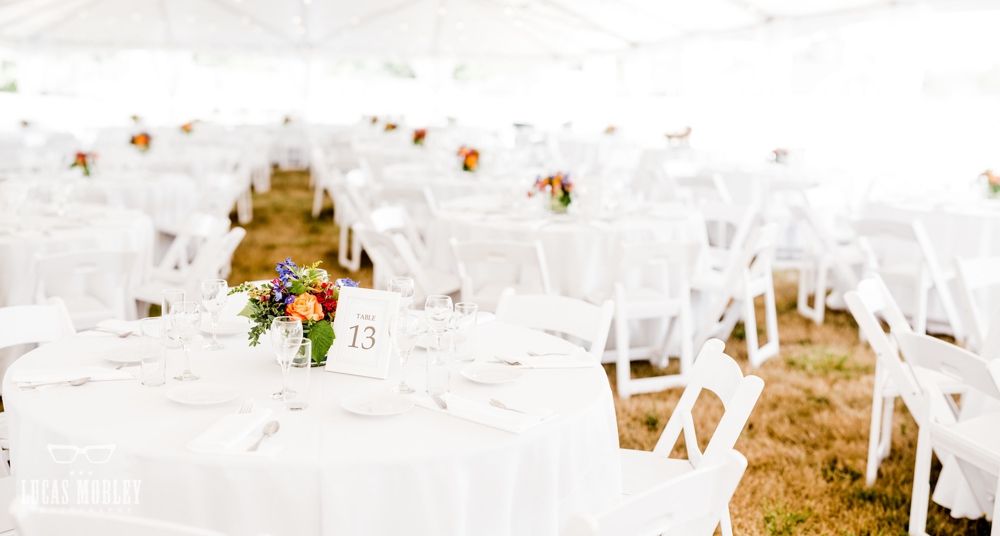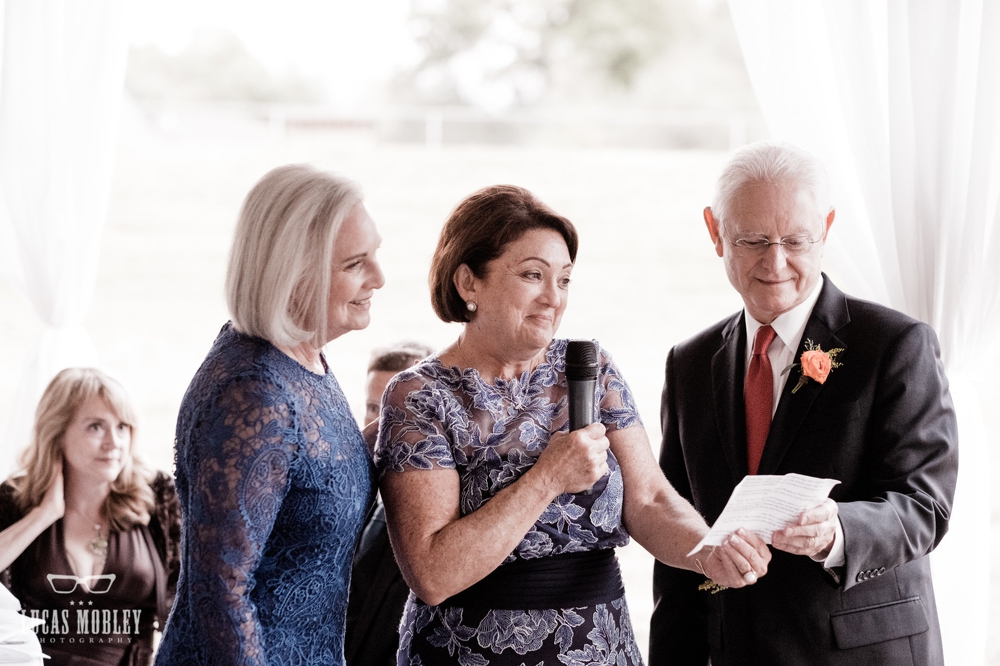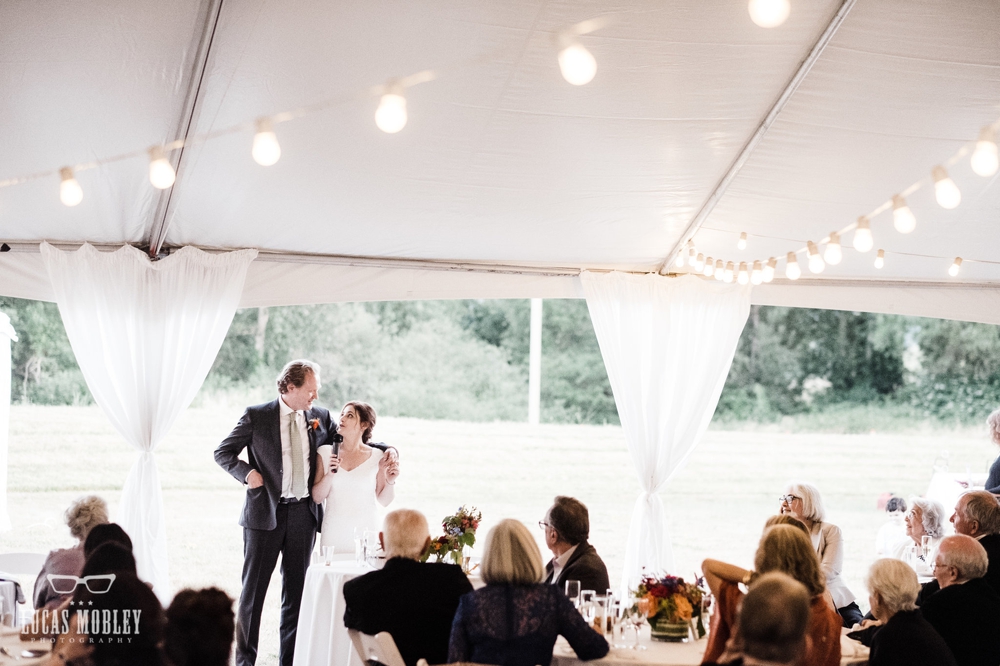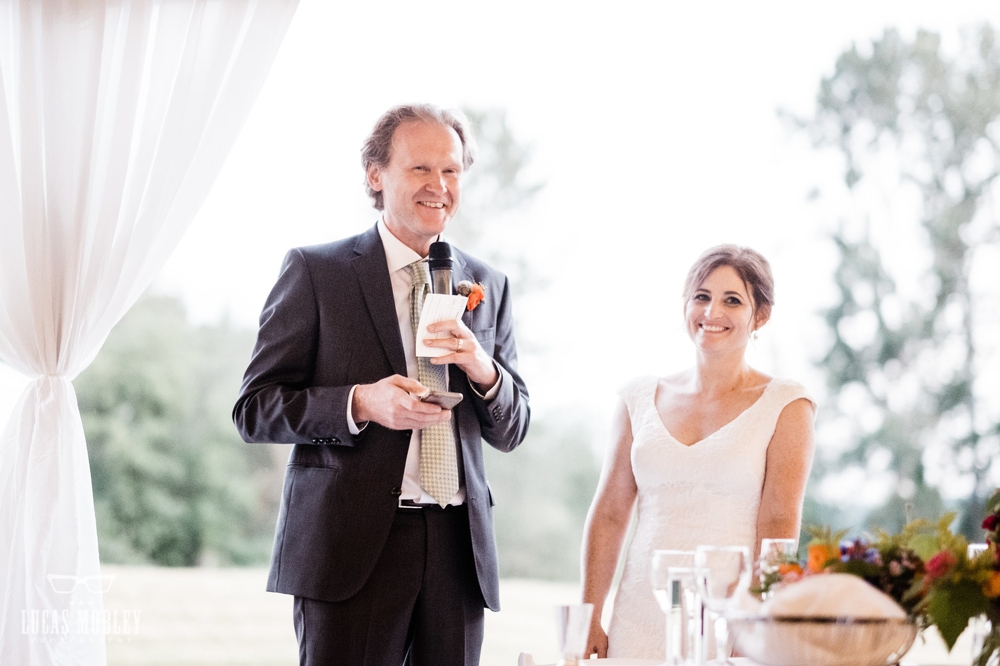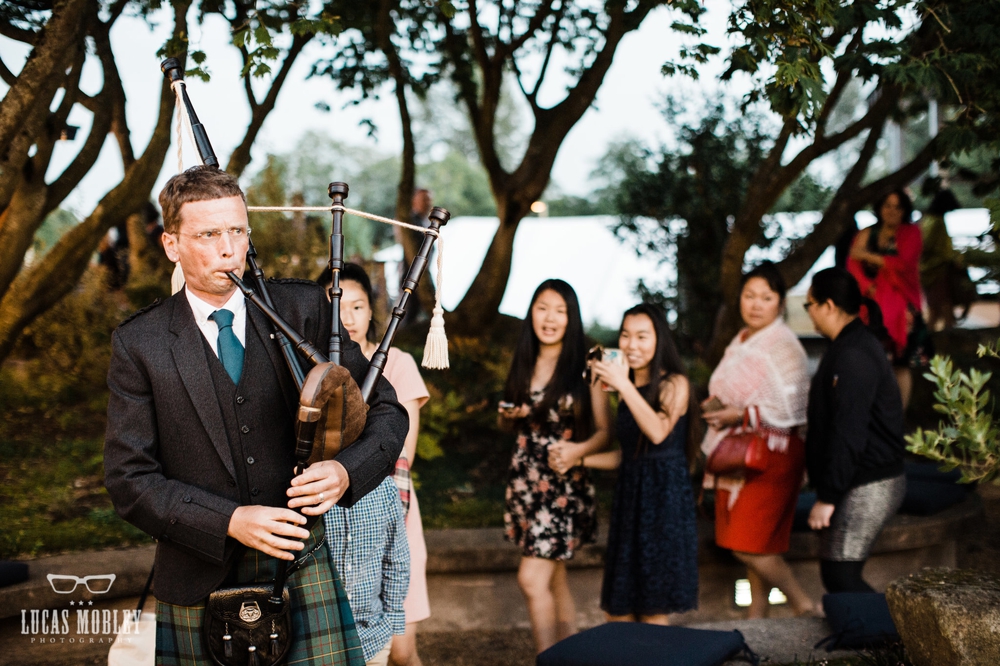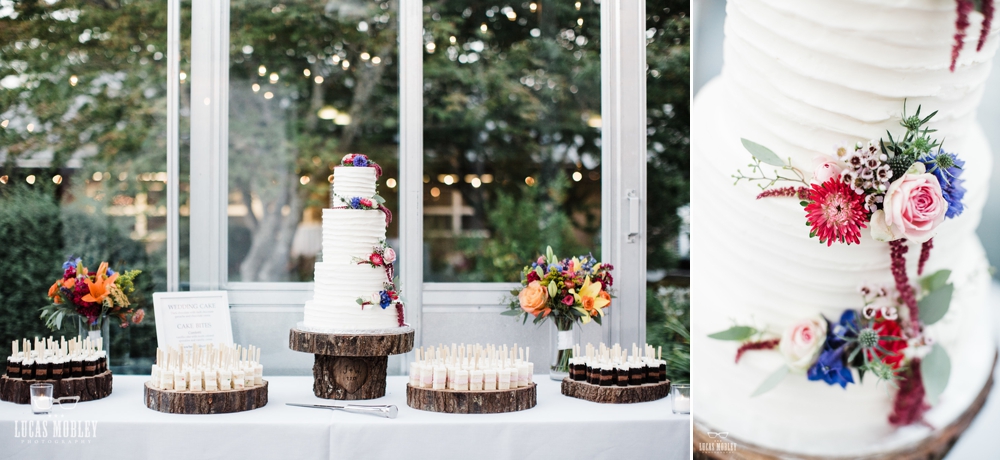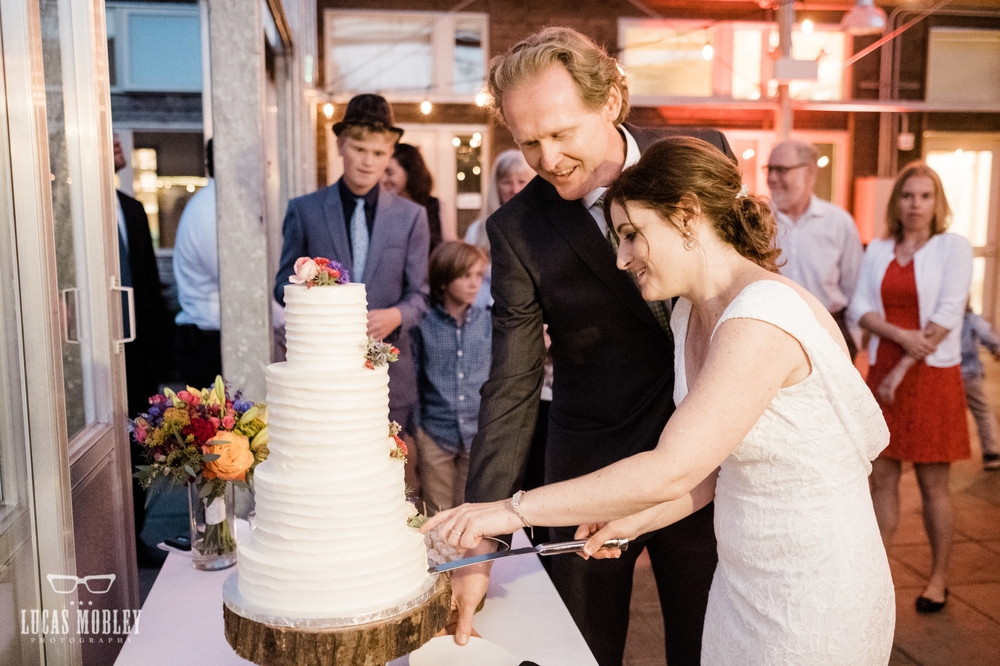 We can't thank you enough for all your help with our wedding. I can't tell you how many compliments we got on the weekend, especially how smooth everything went. There is NO WAY we could have done it without you! ~ Julie
Wedding Planner – Pink Blossom Events
Photographer – Lucas Mobley Photography Inc.
Venue – UW Center For Urban Horticulture
Caterer – FareStart
Klezmer Band – Seattle Klezmer
DJ – Affairs To Remember DJ Entertainment 
Floral – Designs by Courtney
Videography – Lorbaniah Cameography LLC
Bakery – BAKED
Bagpiper – Family
Rabbi – Rabbi David Stern
Hair & Makeup – Salon Maison
Rentals & Tenting – CORT Party Rental
Draping – Prop Gallery Events
Paper Goods – Valerie's Invites
Transportation – Shuttle Express
Childcare – Best Sitters, Inc.
See more weddings planned by Pink Blossom Events