With their First Anniversary soon approaching we are excited to highlight Christine and Brad's August 24, 2013 wedding! Brad, a local musician, and Christine, a prominent real estate agent, know how to do a Seattle wedding day right. With every detail thought of along the way their wedding day echoed the strength and love these two have for each other and their community. We were honored to be a part of it all! Thank you to Sorella Photos for capturing the fun, the ambiance and the many special moments from start to finish!
436
Surrounded with the support of friends, they got ready at the Edgewater Hotel.  Michael Bride & Maria Olson provided flawless makeup & hair services for the ladies while Brad and his groomsmen were treated to the Beatles Suite which allowed for a shot of their local band, Countrycide, in the famous Beatles pose overlooking the water… great job guys!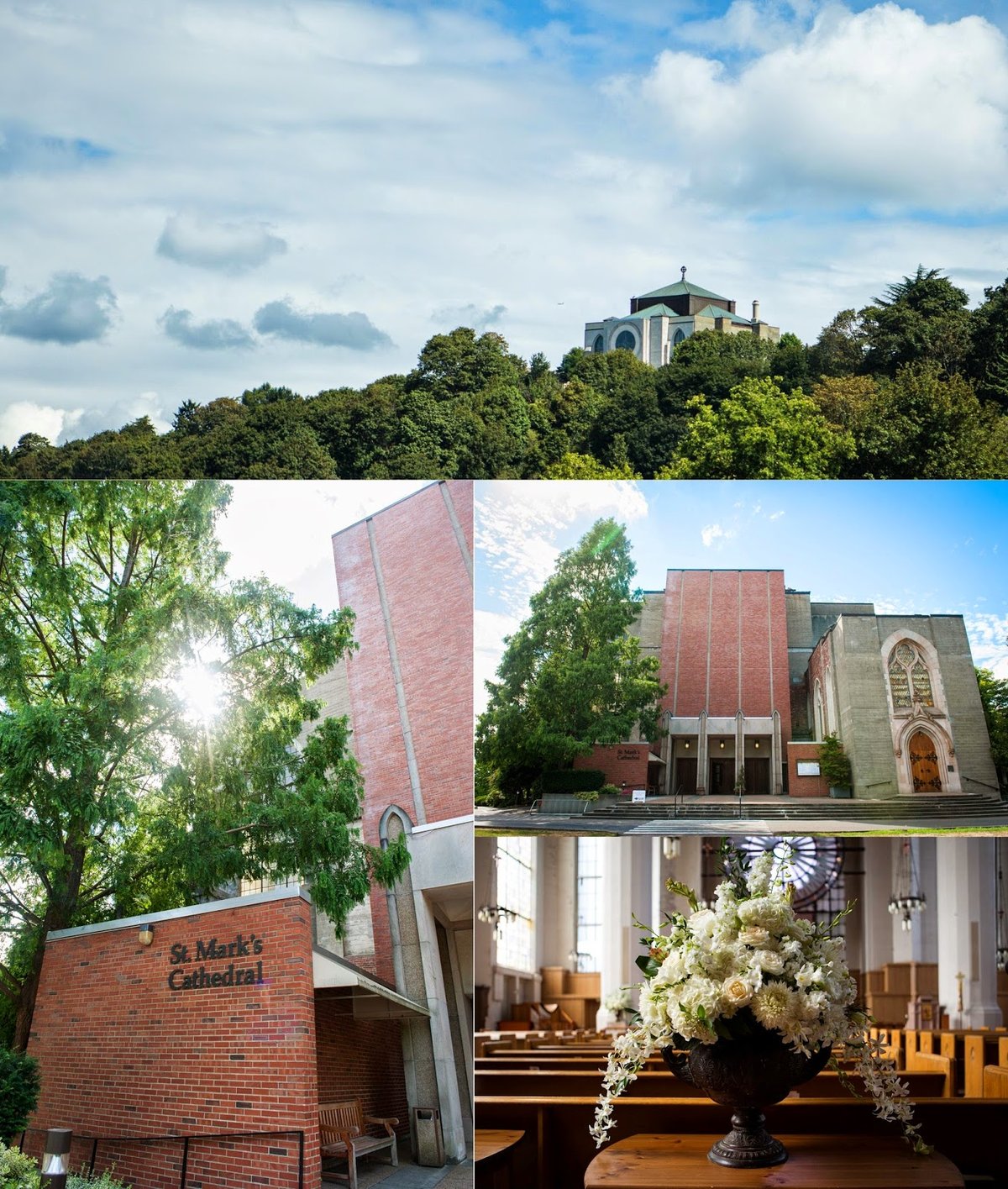 Bridal Party, family and guests were shuttled over to St. Mark's Cathedral, located on Capital Hill, by British Motor Coach. Making sure not to see each other before the ceremony, Brad and Christine took separate pre-ceremony photos at the church.
Jewel-tones and a splash of peacock highlighted the day while Brad & Christine's "kids" made special appearances throughout the ceremony and getaway ensuring for one big happy family.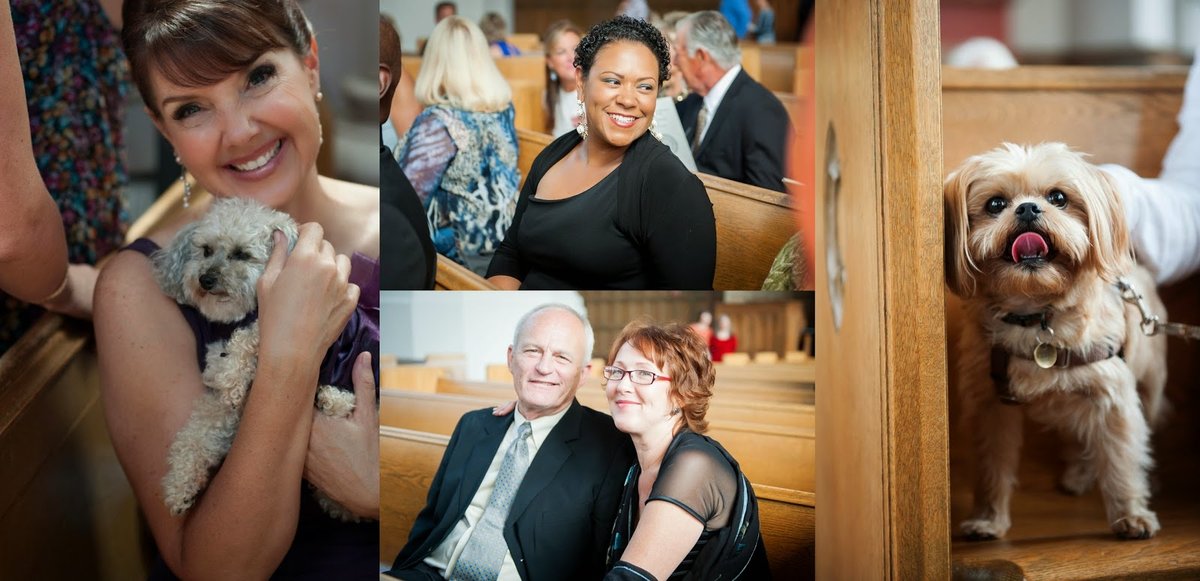 The angelic voices of the Byrd Ensemble Choir, accompanied by the church organist, led Christine and her beau to the alter. The bride entered the cathedral to a custom-written piece of music by her betrothed called, "Christine's March". Truly a moment they will never forget.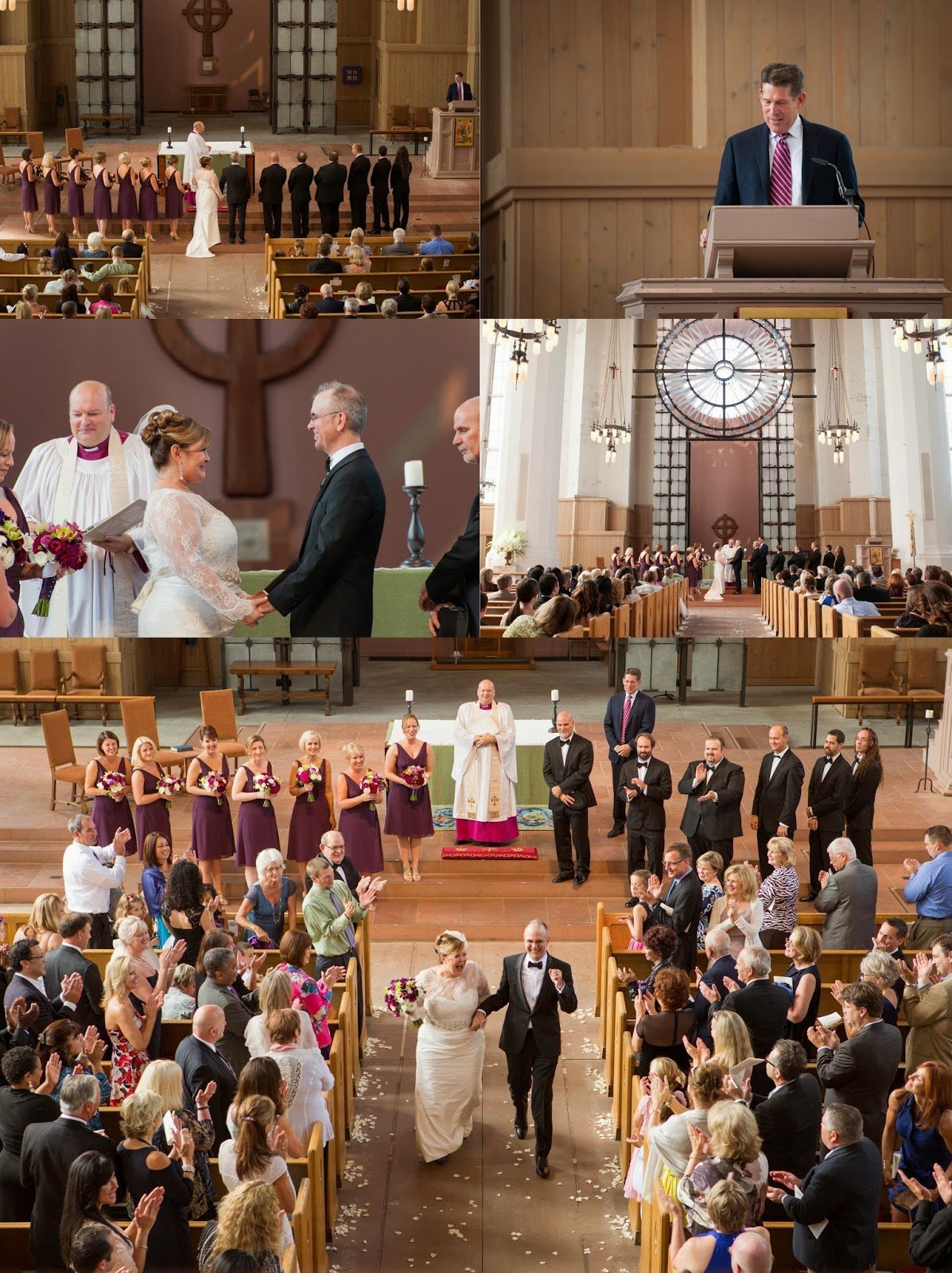 After the couple's "I Do's" and a few group photos, guests tossed petals as they made their getaway, riding in style in one of British MotorCoaches' finest:, a classic white Rolls Royce.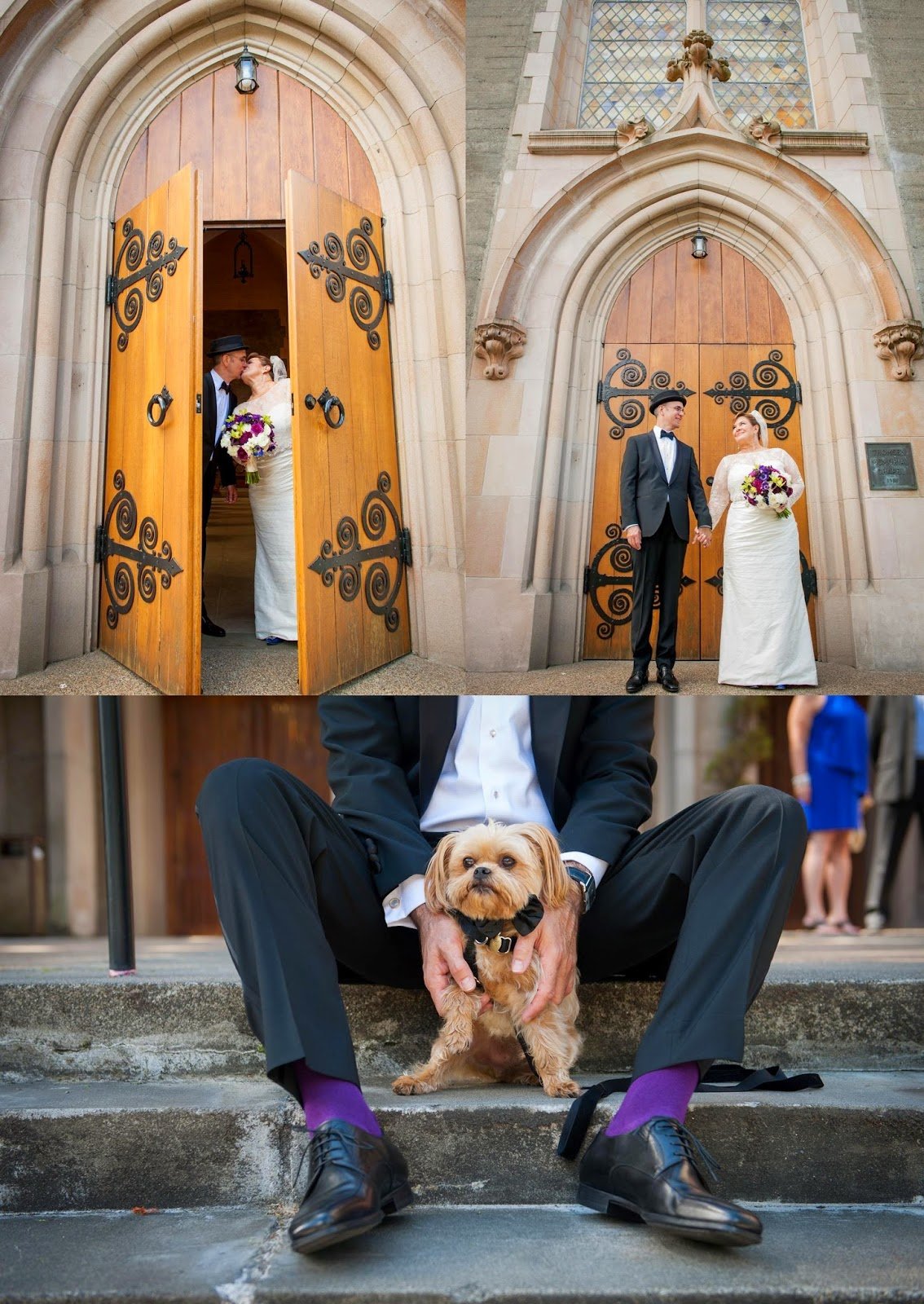 The couple, along with an intimate group of family and friends, enjoyed a rooftop cocktail hour on the Edgewater's Terrace Room, featuring tray-passed appetizers (Pear Bruschetta, Mini Crab Cakes, Popcorn Shrimp, Moroccan Chicken Bites) and Prosecco, while being serenaded by a talented violinist.

As the dinner hour came, guests found their escort cards (the first of many sweet bites of the night) featuring a Ferrero Rocher chocolate as the base. The ballroom was elegantly draped in rich tones of gold, purple and hints of peacock throughout.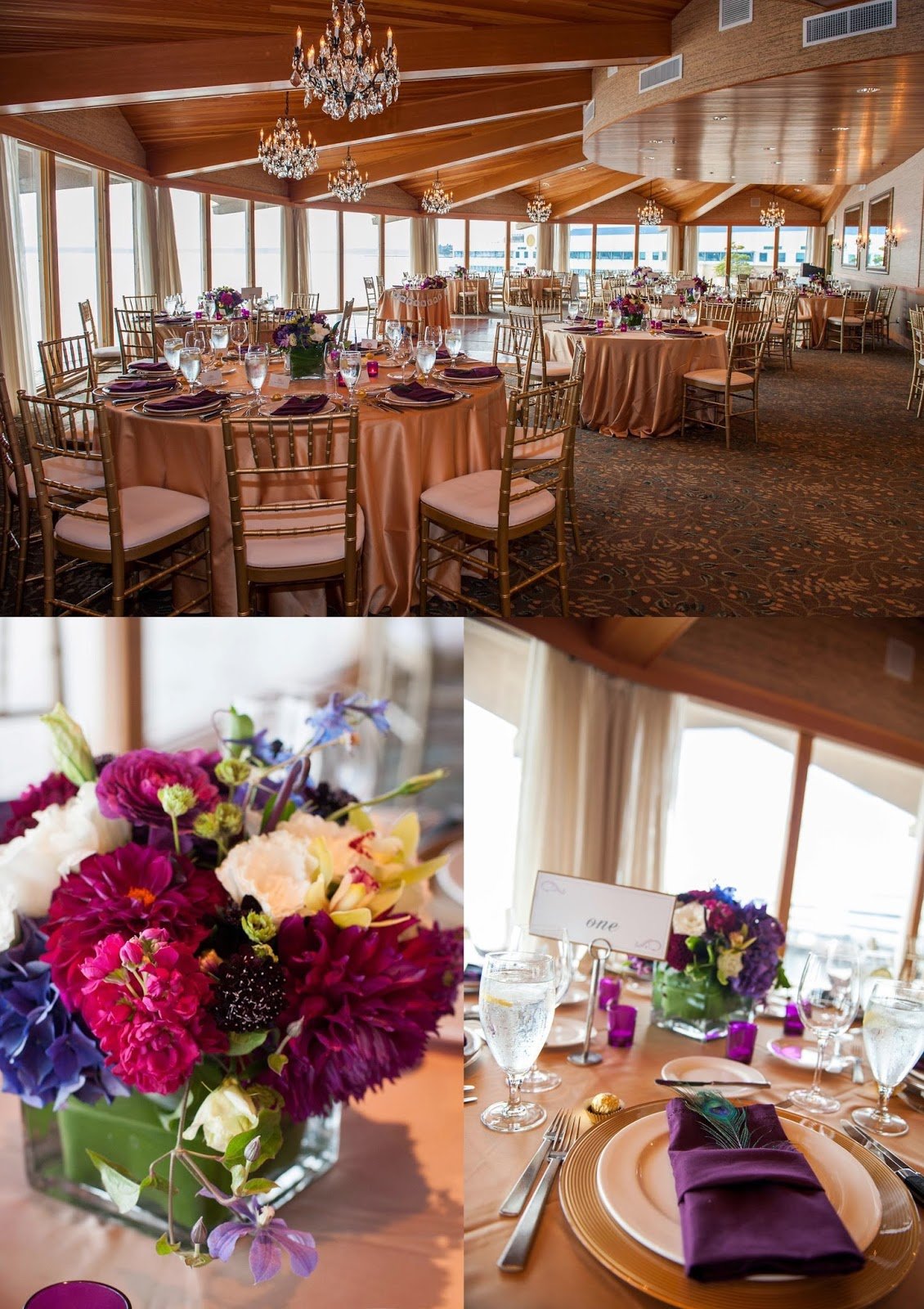 Christine and Brad took their seats at the sweetheart table where a sign draping the front read "Anything is Possible" and two dog beds flanked either side of their table. As the first course of dinner was being served, guests were serenaded by the live vocal talent of a close friend who sang a breathtaking version of "Ava Maria" and an ever favorite by Ms Etta James, "At Last."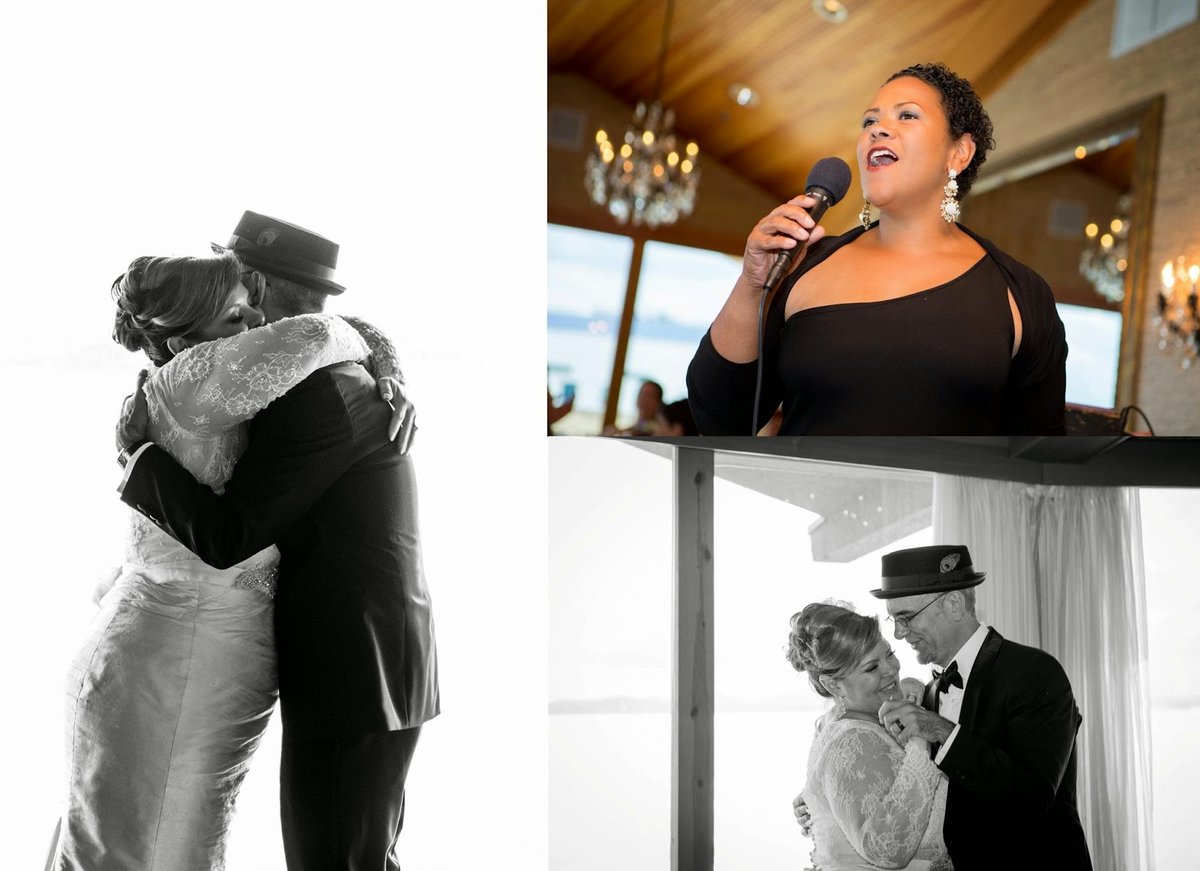 After enjoying Garlic Steak, Salmon with Crab or Truffle Risotto for entrees, toasts began.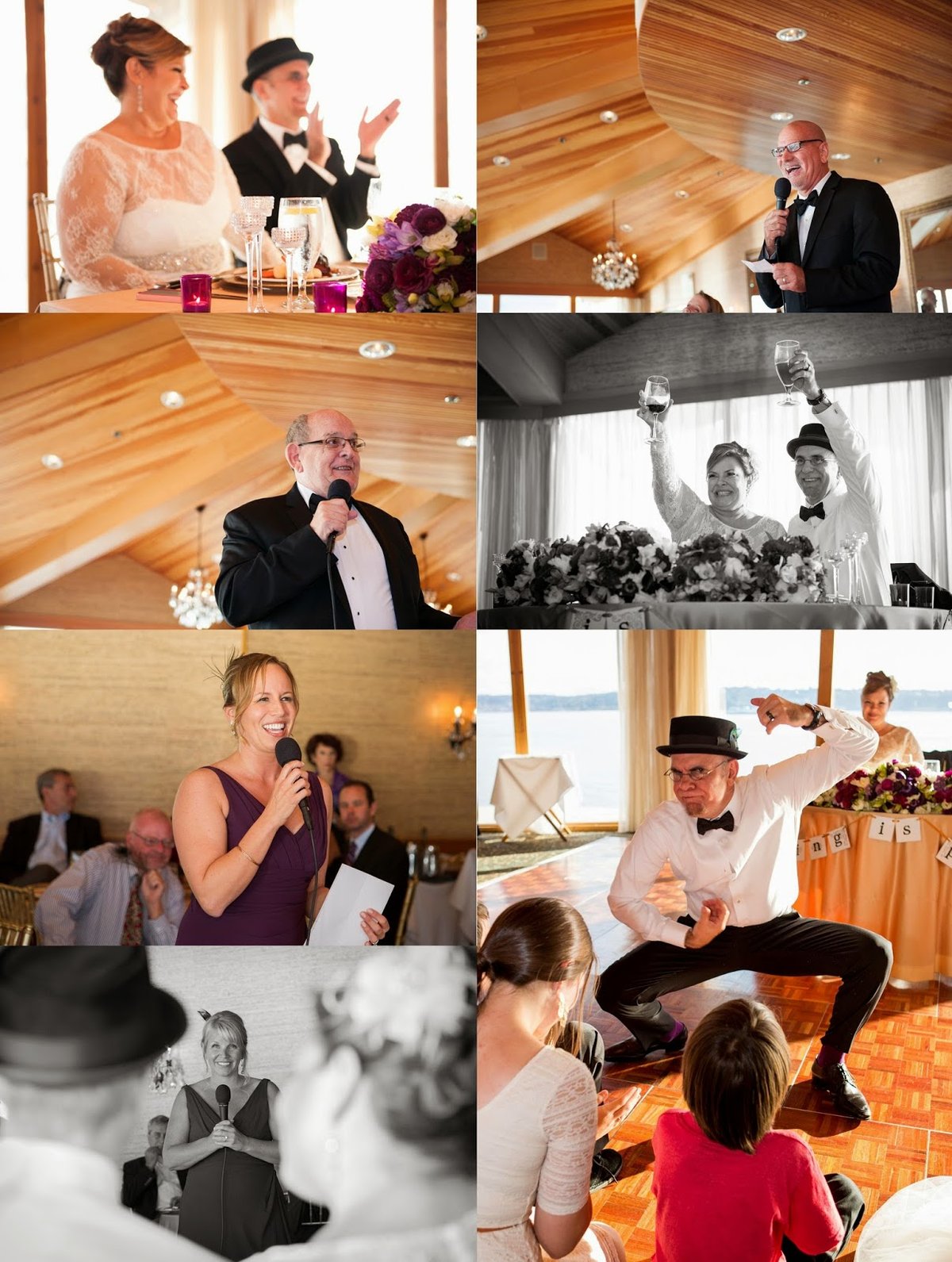 As guests were escorted back into the Terrace Room following toasts, Christine surprised Brad with an acoustic guitar cake set alongside pedestals of sweets and apothecary jars filled with color coded candy to satisfy every guest. While Brad cut into his cake, additional guests arrived for the late night party and appetizers rolled out once again! Along with the surprise music-themed grooms cake, the bride also revealed a specialty trip she'd arranged for the couple's European getaway! We hope you enjoyed your fabulous honeymoon Brad and Christine!
With the ballroom flipped for a dance party and the sun beginning to set, Brad and Christine cut their wedding cake and enjoyed their first dance as husband and wife to Adele's "Make You Feel My Love."
Surprises continued around every corner. Christine had planned to surprise her honey, yet again, asking his band mates to play a few sets with their band, Countrycide, as a surprise to Brad. Little did she know that they let the cat out of the bag early on and the surprise was reversed for Christine with a few special, select songs that Brad had arranged. She was truly touched!
To top off the night, guests were treated to a complimentary copy of Countrycide's latest CD as a wedding favor. To a very special couple – CONGRATULATIONS CHRISTINE & BRAD!
Thank you, thank you, thank you!! You did an amazing job and Andrea was AMAZING!!
Love, Christine & Brad